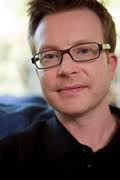 This is my second interview with author Elisha Goldstein, about his new book entitled " The Now Effect".  Is a wonderful book for anyone wanting to calm their anxious mind and take control of the incessant stress that so many of us are under.
If you are like me the anxious mind is something that is always there, I just need to learn better techniques to calm it and gain more focus.   When you learn the techniques taught by Elisha, you will certainly be able to approach your difficulties with more grace and less stress.
Elisha states that "The Now Effect" will literally change the way you think before you think and break free from subconscious beliefs and old programming that don't serve you.   You will have more choice points in your life, bringing back a felling of aliveness and opening the doors to greater potential, opportunities and possibilities.  You will also learn how to increase your emotional intelligence and be able to relax more effectively in moment of distress.
" The Now Effect" loaded with wonderful stories as well as at the end of each chapter Elisha provides what he refers to as "Now Moments".  These are located at the end of each chapter and designed to have you reflect or do an exercise that will reduce your stress and increase your awareness.
One of the important lessons that Elisha teaches is about something called the "Triangle of Awareness".  Elisha states that in in given moment, no matter what you're doing three basic things are happening to make up your immediate experience: thoughts, emotions, and physical sensations. He states that in the past we thought that these elements we independent from one another, but nothing could be further from the truth.  A thought can trigger and emotion and the emotion can trigger a physical sensations.  The key is awareness, understanding what we are doing to ourselves to create this chain reaction.  If you can become more aware of what the subconscious mind does while on auto pilot, then these thoughts, feelings, emotions and physical sensations are easier to control.
Elisha new book is filled with wonderful examples, stories and exercises that guide the reader to a heighten level of awareness.  He has also included QR barcodes in the book which take the reader to short video pieces to help you understand the practice the techniques that he is teaching.  This is a wonderful book for anyone who is looking to take control of the stress, anxiety and lead a more peaceful lifestyle.
If you would like more information on Elisha Goldstein please click here to be directed to his website, ore click here to be directed to the book website.
Enjoy this wonderful podcast and interview with Elisha Goldstein the author of " The Now Effect".