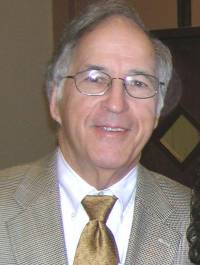 I recently attended the Book Expo America in New York and had the pleasure of meeting the executive director of the Napoleon Hill Foundation, Don Green.  Don is currently in charge of any new publication that the foundation publishes as well as overseeing all of the historical works of Napoleon Hill.
The association recently published a new book entitled "Napoleon Hill's Golden Rules-The Lost Writings."  In my interview with Don we explore the timeless writings of Napoleon Hill and the wondrous wisdom exemplified in the message.   What is so wonderful about this new book is that the message is so simple, yet so profound.  Even after all these years Napoleon Hill's writing are a valuable part of the fabric of our positive thinking and human potential movement.  The stories depicted in this new book are a great way for people to remember these simple principles of living an enriched and rewarding life.  I like to say they are probably not anything you don't already know, but we need frequent reminders of these principles to keep us on track.
I highly recommend this new book, and my interview with Don was a real pleasure.  I hope you enjoy listening and I encourage you to visit the Napoleon Hill's Foundation website for more information on books, CD's and other valuable supportive material published by the foundation.
Please click here to be linked to their website.