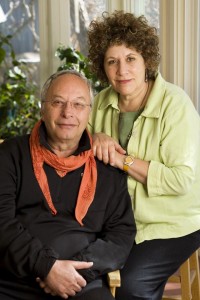 Come with me on this wonderful journey with two of the most amazing people who have not only practiced the fine art of meditation, but have taken the time to interview over 100 people who have personally benefited by the practice of meditation.
Ed and Deb Shapiro's new book entitled, "Be The Change-How Meditation can Transform You and the World",  is a wonderful book for anyone who wants to learn more about the incredible benefits of a regular practice of meditation.   They have interviewed everyone from Dr. John Grey to Dr. Dean Ornish and their stories are revealed in this wonderful book.
What you will find from reading the interviews is that all of the individuals who have started a practice of meditation have shifted their lives for the better, and have gone on to look beyond themselves and have a focus on how to help and serve others.  One of the amazing benefits of meditation is that it calms your mind to a point of being able to get in touch with a higher spirit, an energy that is greater than you. You emerge with a peaceful energy that can be used for good.  You are more calm, focused and have the ability to move your life in a graceful way in new and exciting directions.
Compassion is something that we should all practice more of, and if you are looking to to get in touch with the compassionate part of your being then meditation is one way to open up that channel of energy and be of total service to your fellow human beings.  I love this statement in the book by Jon Kabat-Zinn, "We have to learn how to put out the welcome mat for our own shadow side because when we suppress it, we project it onto others and we get the us-and them syndrome: We are right and they are not, so let's kill them before they kill us."
This book is for anyone who wants to "Be The Change" and open up to the good they can do not only for themselves but for for others by practicing meditation and the peace that it brings to the world one persona at a time.
Please go to Ed and Deb Shapiro's website by clicking here to learn more about the good projects they are involved with.