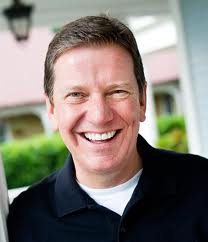 In my recent interview with Michael Hyatt the  CEO of Thomas Nelson Publishing, and the author of a wonderful new book entitled "Platform-Get Noticed in a Noisy World" we discuss what is required for someone to get noticed in this very noisy and crowded world we live in today.
Michael is one of the top business bloggers and holds the #1 spot as a Leadership blogger. No doubt he is extremely well qualified to speak about getting noticed and building a platform.
He states that "competition has never been greater and people are more distracted than ever.  That being said, never before have there been so many ways you can connect with people if you do it right.  Michael states that there are two critical parts of the success equation: a compelling product (the what) and a significant platform (the who). 1) Create products that people would love to use 2) Create products that solve problems in unexpected ways 3) Create product that exceed your customers' expectations.
We also speak about what Michael refers to as the WOW Experience, of which he states has some combination of the following ten (10) elements:
Surprise , Anticipation, Resonance, Transcendence, Clarity, Presence, Universality,  Evangelism, Longevity, Privilege.    He says that being successful means becoming the expert in recognizing WOW when it shows up.  More importantly, it means being able to recognize it when it is absent–and insisting that you ask yourself to deliver it.
Michaels' new book is loaded with tips and ideas to help anyone who is attempting to develop a platform.  What I really enjoy about Platform, Get Noticed in a Noisy World is that the chapters are short 3-4 pages, easy to digest and filled with very useful tips and information that you can put to use immediately.  If you are someone wanting to get noticed in this noisy world, then reading Michael's new book is a must.
If you would like to download a free chapter and watch an informational video about the book, then click here to learn more.  You can also click here to be directed to the Facebook page.
Enjoy this wonderful interview with author Michael Hyatt.