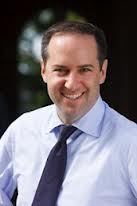 Many of us are privileged enough during our lifetime to have a wonderful mentor.  Howard's Gift is a book about Eric Sinoway and his amazingly wise mentor and professor at Harvard University Howard Stevenson.  This book is filled with compelling stories and lessons that Eric learned from Howard throughout his years at Harvard and beyond.   Howard was a towering figure at Harvard Business School, and the man who literally defined entrepreneurship and taught thousands of world's most successful professionals.
Many of the lessons you will take from this book will be quite valuable, and the way that Eric tells the stories are quite inviting and compelling.  One lesson that Howard speaks with Eric about are "inflection points".  So just what is an inflection point and why is it important?  An inflection point as defined by Andy Grove the founder and former CEO of Intel is an event that fundamentally changes the way we think and act.  Usually, an inflection point isn't a little change. It is a moment when–by choice or not–we pivot from the path down which we are traveling and head in an entirely new direction.   I would venture to say that almost everyone has inflection points in their lives, and it is the experiences and moments like this that we remember forever and change us– almost always for the better.
Howard advocates business planning for your life's work.  In other words  develop and image of where you want to be and this place is not defined by our title, pay or stature.  As human beings we are complicated souls seeing meaning and purpose in our lives, but when you look at the individuals that have made a difference on our planet they have done so by having a vision of creating something much greater than just making money.  They have a mission to change our culture and society with their inventions; Apple, Facebook, GE, Toyota, Tesla, Google and the list goes on.
If you are driven to make our world a better place to live by whatever means, then you owe it to yourself to read "Howard's Gift".  This book is filled with great stories and lesson learned by Eric Sinoway the author by his mentor and wise confidant Howard Stevenson.
Enjoy this wonderful interview with Eric and for more information about the book please click here or watch short video on juggling priorities on YouTube by clicking here.