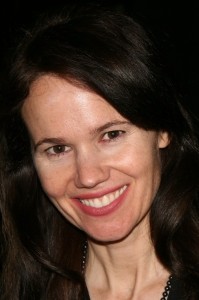 Elisabeth Fayt's new book entitled, "Paving it Forward", is a must read for anyone who would like to learn how to better visualize a better tomorrow. It is an instructional manual which shows you how to pave your life forward.
In our interview together, we discuss how her life was positively influenced by the great Indian Saint Paramahansa Yogananda.  Elisabeth is a devotee of Self-Realization Fellowship and states that when she read the, "Autobiography of a Yogi", that it changed her life forever.  She  studied and devoted some years of her life to the Self-Realization Fellowship organization.
Elisabeth believes that the act of "pre-paving" is consciously choosing how you want to look, live and feel through every part of your day and every part of your life.
Pre-paving is telling the Universe what you want before it happens.  It is a form of intention that "lines up the energy" so that you can easily manifest what you desire.  Elisabeth states that your vibration works as a magnet, attracting to you all of the people, events and circumstances in your life. The goal is to raise the vibration so you begin attracting the good things in life that you have always wanted.  The moment you begin positively pre-paving, your vibration rises immediately.
I love the way that Elisabeth has organized her book.  It is perfect for the reader.  Each section starts with an opportunity to affirm your pre-paving for the day or for something that you are attempting to manifest in your life.  It sets the energy in motion for you to manifest your thoughts and ideas, then Elisabeth provides supportive stories and ideas to tie the particular pre-paving thought to what you are attempting to manifest in your life.  You can pick up the book in any spot or use the index to find a particular area that you wish to pre-pave, and you are on your way to manifesting your desires.
Elisabeth speaks about your emotional guidance system, and that negative feelings are a blessing and a gift.  She states that when you feel a negative feeling, it is a sign that your thoughts are not taking you in the direction you want to go.  If you want to stay focused then pre-paving is a positive way to reinforce your path so that you can achieve your aspirations.
I know you are going to love this interview with Elisabeth Fayt.  If you want to learn more about her workshops and other programs please visit her website by clicking here.