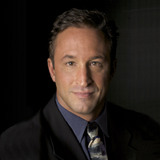 In my interview with author Doug De Vito we discuss his new book entitled " The Upgrade: How to Improve Your Life By Healing Others"  Doug started working with author and founder of "The Reconnection" Eric Pearl, and was probably the least likely candidate  to become involved in the work of "The Reconnection".   Previous to getting engaged in this work Doug was an engineer with an MBA, but synchronistically brought both Doug and Eric together, and Doug has spend a good percentage of his time working with outside researchers to prove the work of "The Reconnections".
So just what is reconnective healing work?  It is a new form of energy, light and information that is here on the planet for the first time. When the practitioner accesses that "energy" it helps a person move into a state where tremendous healing can occur. It is as if the frequencies help to connect the other person into a state where their "dis-ease" states and symptoms tend to fall away.  This new frequency has been measured, documented and validated by various respected research and scientific teams around the planet, and they are stating that it is quite different that anything we have had on the planet before now.  Reconnective Healing sessions are typically done "hands off" , with the practitioner normally working around someone eles's body.  The practitioner then feels and observes various energetic sensations in and around that person's field, and this somehow connects the person to a healing state within himself or herself.
If you would personally like to experience Reconnective Healing, Doug De Vito will be conducting a class to teach this process.  It will be held in San Diego at the Crowne Plaza San Diego April 15-17, 2011.
To sign up for this class please click here to be directed to the Reconnective Healing website to register.   I hope you enjoy this interview with author Doug De Vito.