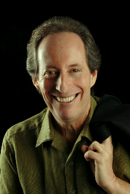 Steve Sisgold's new book, "What's Your Body Telling You?", is for anyone who needs to get in touch with what their body is telling them about their emotional health. Steve is a body-centered therapist that has been working with clients for many years helping them get in touch with their body intelligence to create better lives.
In our interview together we explore how our body speaks to us, and is providing us with important signals but how frequently we are not in touch with these signals. Steve has found that the happiest, healthiest most successful people are those who integrate IQ (cognitive intelligence) with BQ (body intelligence). These self-confident, smart people are uniquely attuned to their bodies. They trust their instincts, listen to their gut feelings, and make decisions based on their true desires. They project confidence, comfort, and clarity of purpose. Steve calls this unique state, "whole-body consciousness," and he often sees clients achieve it in only one session.
His book is filled with step-by-step inspiration exercises and mind-body integration tools. His books will show you how to:
Hear and connect sharing between your body and mind.
Shift into whole body consciousness at will and know exactly what the next right move is.
Communicate with greater effectiveness and clarity.
Identify, release, and change the subconscious viral beliefs that sabotage your happiness.
Heal the traumas and painful emotions that may be stored in your body.
Steve refers to our ability to lie to ourselves as spindoctrination. He says since inception of time man has had the ability to lie to another person, and to deceive them as a means of survival. But that we have developed an even higher-order function: the ability to lie to ourselves. This uniquely human ability allows us to present an honest face when we are being less that truthful. He says that once again, the complex human brain devises a survival strategy that allows us to outwit the one we want to deceive—but at what cost? Personal integrity is lost, self esteem is sacrificed, and the basic trust is tossed out the window. It is this kind of behavior acted out over years of our lives that takes a high tool on our body.
I recommend that anyone who is currently dealing with the stresses and struggles of everyday life to read Steve's book. His insights are certainly very revealing, and his books provides the reader with the tools to identify and navigate what our body is telling you.
If you would like to learn more about Steve's free body IQ Test, then click here to be directed to his website for your opportunity to take the test and learn more about your body IQ.