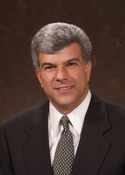 I have been a personal friend with Lou Cassara for over six years.  We met at a Spirit in Business conference in Santa Fe, NM.  Lou was attending the conference to better understand the concepts behind the triple bottom line for business. If you are not aware of the triple bottom line, it is people, planet and profits.
Lou has always been a trendsetter when it came to working with his financial services clients.  He is part of a very prestigious group of men and women who make up the top one half of one percent in the insurance industry.
His book, "From Selling to Serving", is about the process that Lou has developed to help him stay in the top of his industry, and he explains the very important aspects of how to better understand and work with clients/customers in any business.  His "Client Creator Process" has been taught to thousands of sales and marketing people throughout the financial services and has helped so many sales people understand the simplicity of attracting and retaining customers.
Lou has found out that how you communicate with your clients accounts for 85% of the relationship.  Yet most sales professionals spend only 15% of their time developing these vital skills and abilities.   People buy from people.  Relationships, not products are the key.  Changing the way you think about these relationships, and moving from a selling to serving mindset creates unlimited opportunity.
I hope you enjoy this interview with a true master in his profession, and someone who will teach you how to attract, connect and commit by aligning intention with actions.
If you would like to know more about Lou Cassara and his book "From Selling to Serving" please click here to access his website.  Enjoy our interview together.