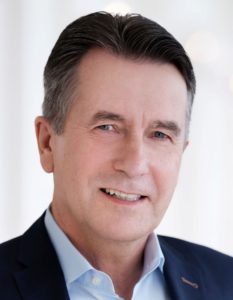 Joining me for this podcast is an executive coach and the author of ASPIRE: Seven Essential Emotions for Leading Positive Change, No Matter Where You Are – Reiner Lomb.
Reiner is also the founder of BoomerangCoach which is an executive coaching firm specializing in leadership and career development, innovation, and transformational change. As an executive coach, he works with leaders and 'change makers' in a wide range of organizations, from start-ups and multinational companies to non-profits and local communities.
His mission is to mobilize and develop leaders to create a more sustainable and positive future for all. With this, Reiner also came up with a book. In ASPIRE, he weaves leadership lessons learned from living through the reunification of East and West Germany, as well as building multiple businesses, to demystify the process for creating a vision of an aspirational new future.
If you are interested in learning more about Reiner, please click here to visit his website.
I hope you enjoy and learn from this engaging interview with Reiner Lomb. Thanks and happy listening!
THE BOOK
In ASPIRE, Lomb artfully shows readers how to use the power of emotions to influence people to change their behavior and make that vision a reality. This book is the answer for anyone who has ever asked the questions, "What are the most essential leadership competencies to create the change I aspire to, and how can I learn them without spending too much time?" Whether you are in a formal leadership role or are a rising leader, entrepreneur, or changemaker driven by a desire to use your voice to create change, in this book you will discover how to positively influence key stakeholders, build trust, lead with optimism, ride the waves of negative emotions, mobilize people to take action, and choose resiliency in the face of setbacks.
THE AUTHOR
Reiner is the founder of BoomerangCoach, an executive coaching firm specializing in leadership and career development, innovation, and transformational change. Reiner's mission is to mobilize and develop leaders to create a more sustainable and positive future for all. As an executive coach, he works with leaders and 'change makers' in a wide range of organizations, from start-ups and multinational companies to non-profits and local communities – all who aspire to create transformational change.
You may also refer to the transcripts below for the full transciption (not edited) of the interview.
Greg Voisen
Well Reiner, welcome to Inside Personal Growth and for all my listeners, they've heard me say this 1000s of times they must have you know, I've almost done 1000 podcasts in the 15 years. Welcomed Inside Personal Growth drive you're listening today from Atlanta joining us is Reiner Lomb. So they say it right. Okay. And his new book is called ASPIRE. And the subtitle is Seven Essential Emotions for Leading Positive Change No Matter Where You Are. This book is a really a wonderful book. I would say of all the conscious leaders, the way that Reiner has written this, it's for those of you who are I would call conscious leaders now I'm gonna let them know a bit about you. Reiner is the founder of boomerang coach and executive coaching firm, specializing in leadership and career development, innovation, and transformational change. burners mission is to mobilize and develop leaders to create a more sustainable, and positive future for all. As an executive coach. He works with leaders and changemakers in a wide range of organization, from startup and multinational companies to nonprofits and local communities, all who aspire to create transformational change, whether he's working with corporate executive entrepreneurs, intrapreneurs and genius, trailblazers. Runners, clients appreciate his international business and cultural cross cultural leadership expertise. You can find out more about Reiner by going to Reiner r-e-i-n-e-r-l-o-m-b.com. That's Reiner Lomb, l-o-m-b.com. So we'll put a link to that in the blog as well. We'll also put a link to maybe some other things that Reiner wants us to. But here's the book, you get it on Amazon. And you can see this at Reiner's website as well. He's got it in both a paperback version, as well as a Kindle version. So that's made available to anybody who wants to get that book. Now, Reiner, I think we'll just start the book, off with the story about being in Cuba. I thought that was interesting. And hearing the cheering out from your hotel window that the Wall had fallen, all of my listeners may or may not know, but they could probably recognize from your lame name that he's German. And you didn't live that far from the wall. And actually, I have a little story when I was very young 18. And I'm now 68 I actually crossed Checkpoint Charlie, and I went to the other side. And I could see these huge differences between East and West Germany, it almost seemed like very gray on the other side, when you walked over there, it was gray. And it was like the people didn't seem very enthusiastic. But can you tell us this great story in the correlation you make between the physical wall falling, and between East and West Germany and the divide that has occurred? And here's the correlation here in the US. You know, and well not physical divide. That are our emotions are what are dividing us and what you believe needs to happen for the leaders not only in our country, but every country. I mean, we can say this about Russia as well. Ukraine, look at the great divides that are occurring. But I would agree with you there is obviously we all know huge divide in this country us around political views. And it seems to be gotten bigger and bigger.
Reiner Lomb
Yeah, thank you. Correct. Thanks. First. First of all, thank you for having me. It's really a pleasure. I've been looking forward to this conversation. This question that you're asking, brings me back to November 9, 1989. I was in Cuba. I just had I was at the end of a four-week trip around the island. Just at that time, there was not a lot of tourism in Cuba yet. It didn't have the infrastructure was still very, like an adventure to travel on your own. And so just taking a couple of days resting near Havana at the beach, before going back to Germany, and I didn't. Cuba didn't have Western media there. The newspapers were local and very restricted and then also the to TV and everything was just local Cuban TV and radio and so on. So I hadn't really followed the development in Germany and in Europe for about four weeks. So that was that night was just about, like trying to sleep I was just like halfway falling asleep and then suddenly heard loud cheering and loud noise outside, like party noise, like bit like really uncomfortable. So I thought, Should I get up or not. And I decided I get up and would politely ask the people to be a little bit more quiet so that we could sleep. And as I opened the door, like all these faces, ecstatic faces, like shouting at me the wall, the wall came down the wall, because they said, actually, the mouth is fine. And, and so actually, I didn't get to talk to them. I turned around and close the door and said to my wife, they're so drunk, they believe the wall has come down. So I went, went to bed that night, not believing what I had heard. Because I grew up only with the wall, like what was the Iron Curtain, I was drafted into the Air Force, being stationed near the iron curtain to the Czech Republic, where my mother comes from originally. And we had relatives and the other side in East Germany and in the Czech Republic, as well. And, and so I just had caught up with this wall and with the iron curtain that took it for granted and say this is never going to change in my lifetime. I really believe that. So that that's how big of a surprise while it took me really little bit more, the next couple of days to digest that. And then obviously, when I came back to Germany, then I realized how real it was. But it took me a while really to believe it. Now, so I grew up in in a divided country I grew up in on the Western side of Germany, very close to the border to East Germany, we would very often hike along the the fences, and the barriers. And there were the watchtowers people very often, when they tried to flee from the east to the west were killed or hurt or put in jail. We saw that sometimes on West German TV, you know, bloody faces, or dead people and things like that. So it was a real, it was a real thing we're coming up with and so that's why that was so unbelievable that this would ever change, understanding the political circumstances to power the Soviet Union. It's
Greg Voisen
kind of hard to believe the oppression, you know, the oppression of the people. And then, you know, obviously the desire, I think they get so brainwashed after a while they believe that's all there is. But the reality is, it was good to see it fall. And I think that same thing holds true when we're talking about the politics that divide a country and its people because it's a consciousness. Right. It's a consciousness that pervades. Here you are in Cuba, saying I never thought this would fall I thought it would be there all my life. Yet you saw a shift in consciousness enough that governments and people came together and saw that that particular belief did not serve Germany. And I'm going to this question for this reason. What do you believe is not serving us here in the US today? Yeah, as a result of what we're doing, because you're a conscious leader?
Reiner Lomb
Yeah, it's a very good question. I mean, I live now in the United States. I have been living here for nearly 29 years. And yes, I grew up in a divided with a country that was physically divided. But now I live in a country that is divided by emotions, involved of, of emotions. But these are emotions like resentment, distrust, even hatred, as we see in all these repeated and sad and shocking mass shootings. Right. So these are the emotions that that divide us. And the question that you're asking is how can we raise consciousness to overcome them? And so the question is, overall is like how do we raise the consciousness, the consciousness of the leaders that ended the Cold War? It was a raising consciousness, right to enable that we had to change in government in the Soviet Union was Gorbachev we had also a change in consciousness in Western leaders. And so a lot of things happen there. So I believe leadership plays a big role here. I think the leadership in this country contributed to the divisive has contributed to the divisiveness and the leadership can also overcome help overcome the divisiveness and bring us together
Greg Voisen
so it's so true and that holds true for business as well. You know, in other words, you're working inside of businesses all the time. And when you get a team or a couple of teams where there's conflict, or you get a mixed message, the way the message is sent from a leader down to the rank and file people within a company, I mean, you worked for HP for years, and very successfully. You speak about our aspirational leadership model, and that it's essential for creating a vision of a new future and influencing people to change their behaviors. To make that vision a reality, in your estimation, how can we help leaders shift their beliefs and perspectives about what is causing the divisiveness that is creating the issues that we're now facing?
Reiner Lomb
Yeah, the this is a good question, because it's really the core of the question in terms of leadership, I believe that if you change leadership, if you live change consciousness, we can overcome the divisiveness, the one very effective way in overcoming it and see that in in the society and communities, I have been also an activist on climate, I have been an activist in Germany, anti-Nazi activist when I was young, in my younger years, in my hometown, and I have been in Colorado climate activist for many, many years. So I've seen it in communities, but also in cooperation how to overcome divisiveness. And one approach that I find very effective if we go high enough in terms of in terms of human needs. If we go to our highest aspirations, we can find common count. So give you an example. Like if we create the awareness and consciousness that we have only one planet, and that we all need that planet to be healthy in a way in a certain way, so that future generations can still exist, which means our children and grandchildren, and great grandchildren, and so on. Now, if you have a conversation between two leaders, and you get them to this conversation, you will have an effect because everybody cares about that, unless there's some other mental health issue, right, or some other evil intent. But if somebody's regular person, the majority, vast majority of people will listen to that, if it happens in the right context, in the right. Respect, in a respectful conversation, let's talk about these higher aspirations. And I see that when I facilitate innovation workshops, or vision workshops in companies, if there's a device, if leadership team, if I go, if I bring them high enough in terms of their aspirations, the impact they want to have on the world with their company, there's common cloud, they can find common core,
Greg Voisen
a very important what you're saying, and I think this, you said you were an environmental movement and activist in Colorado. And you know, I think what we're seeing, and it's just my perspective, is, you know, like, the Native American Indians who first founded this country. You know, they believe in Mother Earth, they believe that Earth now is the way that we've taken from it. And many of us do, she has had enough, this climate change, which is affecting global warming, which is affecting the fires, which is we're seeing flooding. We're seeing all these elements associated with the fallout of how we actually have treated this earth overall. And I think as leaders, you know, when the summit came together in Paris, and then Trump said, no, and then Biden came back in again. And, you know, we're talking about one issue here. But it's important to get the collective consciousness of a group of people together to actually make this monumental transition. Now, social biologists who I recently add here, one called on the verge. She basically said to me, you know, we have collect all this data, we can predict, when it's going to rain, where it's going to rain, how much it's going to rain, we have all this data that we pulled together, we can predict the heat waves, we can predict a lot of this thing pretty accurately. The challenge is as a species, as we've watched over 1000s of years, we wait until it's almost catastrophic to take action, and I'm going to go down to the action part. How is it that we have to wait so long? And this brings me to your seven essential leadership behaviors and emotions? Because the first one you discuss is empathy. And I believe that empathy and compassion are the only think two things that will save our world. Okay, collectively, you call it the gate to caring. And you mentioned in a culture where empathy is shown, there is a genuine interest in caring for the well-being of others. Key Point, how do you help organizations and the people in those organizations to become more empathetic and caring? Not only for all the stakeholders, we're talking about all the stakeholders, you know, and it's a good example of this, you know, just in that I want you to answer this question is, I happen to do coaching with people as well. And I'm in the boardroom, and the CEO comes in, and I've never seen him, you know, he's in his 60s, and he was crying. He was crying because an employee who he trusted, he found out was not doing the right things by the customers, meaning he was raising the prices and trying to jack up his sales and do whatever. And he so I didn't hire people or trusting people to do this. And I'd never seen a CEO get so upset over an action that someone in his company had taken. That had upset him enough. That, you know, at the moment, he was actually ready to fire this guy. But my point is, that's the kind of thing we're talking about here. Right? That is it? Yeah. And so how do you help organizations become this empathetic understanding of the clients understanding of the vendors, understanding of the organization, understanding that fellow employees, what would be the great elixir?
Reiner Lomb
Yeah. Now this is this is at the core of our relationships now that the fabric of our life, no matter where we are in families, and communities, in companies, in which society, and we're so I grew up a little bit in this village to what I say, I suggest as a as an approach. And as a solution, I grew up in a farm in a small village in a family business. And so everybody was treated like family, and friends kind of doesn't matter if clients or employees or anybody that was helping, and so that that's what I grew up with. That's what I took to the corporate world. So that kind of attitude, that everybody is a human being who deserves respect, who deserves help, empathy, care, compassion. And one of the things that I've served I manage large global teams from for many, many years at hp and hp software business. And very often I have ran into these conflicts between people that didn't know each other, they worked in different countries that were part of my team, but they hadn't gotten to know each other yet as a human being, is to bring them together from time to time in a location and design experiences where they can get to know each other, not just as work colleagues not as in their role as a sales manager, or as a marketing manager or whatever. But in there, as a human being. So if they, they probably in that time, like sometimes we would cook together. Okay, so there was an experience great together, people cooking side by side, the holding and eating a meal at the end of the day. During that time, the conversations that occurred, getting to know each other, they found out, oh, I have similar issues, I have children, I've already bought them going up, you know, I have parents, aging parents that need care, you know, I'm worried about, you know, what in our city is going on and things like that. So people get to know each other as human beings. When we left these events, a lot of the conflicts that they had before they came to me with and say why they couldn't work with this person was hard to work with this person went away, once they were able to empathize and care for each other as human beings.
Greg Voisen
It's so true. And I think, you know, this next one, which is the second central leadership behavior, is compassion. You know, when the Dalai Lama talks about compassion, you know, and also this, this latest book by Steven Kotler, it talks about, you know, all the problems that we're having globally, right, but that one of the only thing that's going to fix it is compassion for one another. And I, I looked at that, I didn't question it. But I said, you know, really, there's something very connecting to have that kind of compassion. So the commitment to serving you state that compassion is the emotion that drives one to commit to serving the needs of another person. And I would actually even say, to serve the needs of issues that we've created, that globally are going to create the problems, so this person or the people, so what are the characteristics inherent in a leader that is compassionate and wants to serve? I mean, we talk about the models the inverse model of leadership, right? So a leader is here to serve the people it used to be in the olden days, people thought, well, no, the people were there to serve the leader. And that model has been around for a long time. And there's many schools out there that teach that the servant leadership model, speak with us about this compassion and the servant leadership model.
Reiner Lomb
Well, the question why am I leading? Why do I want to be a leader? Why? Why do I step forward and say, I want to lead in a specific situation in an organization or in society? The why is very important, do I do it for me to advance to have more power to have more money? You know, the more agnostic reason? Or do I do it for the greater good, right? Whatever the greater good means. So that, that's very important. The motivation is very important. I would say as a characteristic, empathy and caring, that's the foundation to that's embedded, that's part of compassion. So without empathy and comparing, there can be no compassion. Now what add compassion and talking compassion as an emotion, not as a virtue as an emotion, because religions teach it as a virtual for 1000s of years. But we hadn't haven't gotten much better at it yet. No, that's why I'm working at the emotional level, if you feel it, if you feel empathy, and if you're on top of that, feel compelled to act on your caring, then, if you feel that you cannot behave differently, give you an example, like, and I like to take it to a simple example that is not too complex. But let's say your best friend's mother dies. And do empathy. Would you like emotional empathy, but you've make you feel sad, her sadness, right to her sadness would resonate with you, and so on. But you might that makes you care, but you might not do anything about it yet. And that wouldn't help your friend, right? But compassion would actually make you call her or say, how can I help you it might, you might drive over there and bang the door and take her in your arms and comfort her, you might stay overnight to be just there to make sure she's safe. You might cook her a meal, maybe for multiple days even. So that's really where you move from caring to compassion. And so that's the important characteristic is, first of all, that it is outward, you do you lead with the goal, to have as in mind, the well-being of others in mind, that they can include yourself, doesn't mean you have to sacrifice yourself and not do well. And only the others would include yourself, but also, you want us to be doing well and to actually act on it.
Greg Voisen
Well, it is important in the action of acting, if I can say that, upon your caring is actually the compassion in other words, doing something about it. And your third essential leadership behavior, emotion is interest. You say the drive to understand, okay, we've all heard this, seek to be understood. Right? And so that in a Bucky Fuller used to say this, I don't want to leave people misunderstanding me. I want people to understand, and you stay trying to understand before the act is important advice for anyone, but critical for leaders, you tell a story about a woman from one of your seminars that approached you and created a judgment without ever even knowing you. I think this story is kind of a very telltale sign of what people do that creates divisiveness. Okay, can you tell the story and the importance of understanding first before we're judgmental, because, you know, we're out a lot of us are just automatically making a judgement because something happened. We don't like it. We're gonna do Yeah,
Reiner Lomb
it happens that like subconsciously, right? And in this case was I was at a seminar, multiple day seminar. And this lady, she was also a participant, I was a participant. And she came to me on the second day, and she said, can I talk to you? Can we have a private conversation? Just the two of us like we're We were by ourselves. And then as she, as we approached that place and found a place to talk, to starting to run down, her face her eyes, and I said, what's going on? And she said, well, I, when I first heard you speak, when I first heard you accent, I hated you. I instantly hated you. And I want to apologize for that. Because by now, I got to know who you are a little bit better and, and I feel bad about that I hated you. And so I said, what, what is it about and she said, well, I'm Jewish, from a Jewish family, and half of my family was died in the Holocaust. And the other half were refugees. Despite this, they escaped to Israel, but later became Israel. And so but they said, they all suffered, and they still carried on and that, that suffering that multi-generational suffering, I still carry that with that with me and so on. He explained, I'm not using the exact same word she's using, but in summarizing it, and, and I, I was so grateful that she told me this toy because I had no idea. I had no idea what effect I had. in it. The interesting thing is that during those that seminar that went, then over a year, period, repeatedly, there were three other women that were also Jewish, that came out to me and talked to me and said, Me too. Me too, in terms of, I'm Jewish, too. And everybody has a different style and a different so. But it can happen to anybody who carries something from the past wisdom. But as it comes to, to understanding an interest, the important thing was, this woman in the book, I think I call her, Nancy, it's not the real name, she made an effort to get to know me, and that changed her perspective about me. So that's the important thing that quite the point. That's the point, right? The point of that is cultivating interest if we have a reaction, and I coached also and train in cross cultural learning cross cultural competencies, and postponing judgment, and assuming good intent or to, to behaviors that I coach people on, that gives you a little bit time to get to know somebody, you can take and you can listen, you can ask questions, it makes all the difference.
Greg Voisen
It shows that because of a past experience, how quick people are to create a judgement about someone in this case, it was you that was a negative judgment, as a result of your sound of your voice, you were just talking. They don't. I have a German accent, I'm German, you know. So they knew that. And they connected the two without ever getting to know you. But again, as you said, they reached out and compassion, now better understanding you and resolve the issue. And that's what we're talking about here now in your state in the fourth essential behavior, that a vision aligned with our higher aspiration provides purpose and direction, which generates deep and sustained commitment to act toward the vision. And you call it well, it's the optimism, the lens of visioning. You have a little chart in the book actually, speak with us about the vision to build a software company within HP. And how you were met with negativity from in this case, you call the guy Carl, one of the HP employees, and what were the lessons learned? And how successful was this division for HP because you helped to build a huge software division for them.
Reiner Lomb
Yeah, so that is a very telling, example, a telling story that repeats itself again and again. And if you don't have optimism, if we have this, there's, there's emotions that hold us in the back that all our mental energy is focused on the past. Or we can free ourselves and shift out of these emotions that opened the door then to emotions of the future, hope, optimism, enthusiasm, ambition, things like that, that allows us to look in the future and pursue a better future. So now at that time, I did not consciously know that I did. I studied that later. And when I went into coaching and how do I teach somebody to become optimistic because that's the foundation for seeing ambition, a bit of a better future and pursuing it. Now in this situation, I was just hired newly hired to HP. I consciously joined hp in order to work in soft there because I had worked in hardware in computer science and for a long time, and that this was the future. And I wanted to be part of that future and help to shape that future. So I was assigned to a task force, HP was a hardware company didn't have software businesses, and they were too small task force to help develop a strategy and the business plan for starting a software business. And that was out of Germany. And so we were locked away in the womb. You know, once in a while we came out and had a coffee, you know, this was an open space office. And as I just got the coffee from the coffee machine, somebody introduced himself, and it was very open and friendly, you know, environment and so on. And he introduced himself, and he asked me who I was and what I was doing. And so we did all that. And then I said, well, I'm building a billion dollar having to build a billion dollar software cap. And I need to tell you, the reason for the billion was at that time, there was no billion dollar software company anywhere in the world, Microsoft nod or Oracle, and all these, you know, SAP all these big companies. They were far from that. That's why it was such and it was for me representation of something big, something unbelievable that like, you know, a dream, and there were all kinds of good things associated with it. But I plotted it out of my unconscious mind, and he looked at me, like a deer in the headlights and shook his head. And he said, Kyle said, that's the name I gave him. In the book, I said, young man, you're on the wrong place here. We don't do software here. And the point is that we're set mindset, you cannot look into the future and create anything different, right, you probably only work from what you have. Now, I instinctively knew that, that I had to be optimistic, I had no clue at that moment how somebody can build a billion dollar software business because nobody in the world had ever done it. Right. And also, I was also aware, this is not something I'm building alone, I'm part of a team. And this becomes, you know, a larger and larger organization. The point is, 24 years later, when I left HP, when I moved on to start my own company called executive coaching firm, an HP software business had grown to $4 billion. And it was one of the five largest software companies in the world, along with Microsoft and those big companies and so on. So it was possible, but I did not know at that time, how, how is this going to happen? We had to figure that out. But the optimism that allows you to think big to dream big, and to see the vision to create a vision is the foundation for creating positive change.
Greg Voisen
Well, I used to say, you know, that of all the people Steve Jobs was radically curious, radically curious. And so what's the difference between being curious and radically curious? was almost like it was embedded in every fabric. And as you said, you know, when you want to find a solution to something, building a billion dollar organization, having optimism having a vision, you have to hold that, in your mind's eye, you don't know how you're gonna get there, Steve Jobs didn't know how he was gonna get there. He didn't know that. At the time Apple would be the company that it is today or whatever. But you holding that and then saying that to somebody, and then somebody's telling you, this is not the place to do it is really the point, right? It's like, can't we have this optimism for a vision of the future, no matter how long it takes? It's the same thing with climate change. Can we have the optimism for clean water, clean air, great places for people to live? An environment which is thriving, and a reduction in all the devastation from the things that are occurring because of co2 emissions? And I say we can, and it's not too late. And I think we still need to work on that. And with that, you mentioned that mobilizing is the fifth of the seven essential behavior, leadership, competent companies and competencies, and it builds on previous four behaviors. You stated that the inspiration is the energy for mobilizing, and that a leader plays an essential role in energizing his or her people. What are the three characteristics of inspiration? And how can leaders inspire their people? Because if there's one thing that leaders are always looking to do, it's how do I inspire these people toward this great vision, and they'll keep holding that vision and to be engaged in it no matter how many obstacles they hit along the way?
Reiner Lomb
Yeah, this is a This is a very important question, I now have to say, again, back to the vision itself and optimism, there is no alternative to not being optimistic, we have to believe that we can overcome those big challenges that threaten our future. There is no alternative to it, rather than having not a future. Right. So that's important to say so can we choose not to be optimistic? No, we cannot. We have to, we need to shift to optimism, because that opens possibilities. Now back to inspiration itself. Inspiration, there's so this has three characteristics that comes out of modern psychology, basically, one is evoke inspiration, you'll invoke inspiration. And the way you do it is by linking, what would to speak into people's highest aspirations? Okay, so we talked about higher needs that are bigger than themselves that go beyond the ego, right? Something that they cannot not do, like the work that I'm doing. I cannot not do I have to do.
Greg Voisen
There's no choice. Right. And I know that one. Yeah.
Reiner Lomb
I just saw, like for the East Germans, when they created a peaceful revolution, it was freedom and democracy. They could not do that. They could maybe postpone it. Yes. But they had to have that. Okay, that spoke to the highest desperation. Now this, the second one is really, in terms of inspiration that creates, when you create an awareness, you inspire and an awareness of new possibilities to do speaking back to, like, say climate change, right? Let's say many people don't see, they say that, yes, we want to have to stabilize the climate so that the earth is livable, I don't know how, but inspiring. Nope, the awareness of new possibilities. And that's also the words of the leaders. That's all of those that understand that have created the understanding. And it's a creative process by creative people that in any field of creativity, and painting and writing and making movies, whatever, or inventing new things, they have to have that be creating, they have the awareness of sudden awareness of new possibilities. That's the second type of inspirational characteristics and to serve one that's more focused on how do you pursue, how do you put something in reality, which is called a porch model innovation, to inspire somebody to make something happen, that you believe in, that your vision becomes a reality. And that's it. So these are the three characteristics?
Greg Voisen
Well, again, you know, you have the seven essentials. Now for all of our listeners, we're not going to get to all seven, in the timeframe, I'll just tell them that upfront. But what they can do is they go out and get a copy of the book, aspire for Reiner long. But we're going to sum up this interview with this runner. You know, the book is filled with great stories at the end. It's takeaways and contemplation, you know, and the summaries of each chapter and then the pauses the way you give people opportunity to pause to think about a question. I love how you did that. And for all the listeners, the summaries, and the pauses, are really, really important to get at the back of each chapter here. Now, if there were three takeaways from a spire, that you would want to leave the listeners with. What would they be? And why? In other words, three main points from your book?
Reiner Lomb
Yeah. Yeah, that's a good question. I think any of your listeners can create and lead positive change anyone, no matter where you are. Okay, so that's one. That's one lesson. The second is in order to create positive change, you need to influence or change behavior, starting with your own behavior. Okay. So changing your own behavior, adjusting your own behavior, you can influence the behavior of others and you can increase the Circle of Influence continuously. Okay, so you can scale your impact that way, but you can always change one person you can start always with one person, that's the second one. So, changing behavior in order to create positive change, starting with your own and the third one is really changing behavior requires a shift in emotions and shift and shifting emotions requires an awareness of the emotional state that you are in you Is that helpful for what? I type the behavior. I want to show right now in that specific leadership situation. Or not? And if not, what is the emotion I need to shift to? And that is learnable, you can learn to create that awareness. Is this emotion useful or not? Which one is useful? Like the ones you just, like, for example, you lead a team saying, Do I need to the team is not motivated, they're not performing well? Do I need to inspire them more? Right? Maybe I'm doing something that is not inspiring. So the third one is really that, in order to create a shift, like a change in behavior, you need to shift your emotions you need to learn to shift your motion, and that is learnable. And ASPIRE, the book ASPIRE shows you how.
Greg Voisen
It does. And I would say one of the things that we get caught up in and I'll leave the listeners with this. You know, we are emotional beings, he's talking about emotions here, emotion of caring, and compassion, you know, and inspiring all of these. But in with inside ourselves, when something triggers, a frequently the emotion take holes, will take hold, and will say something we wish we hadn't said to someone or something. And I've always found, and I've heard this from many authors before, that if use pause and take a breath, prior to your response, that your response is going to be a lot better received, than it would be if you literally just got emotional about it. Because it's that emotion of anger. So if you think about it, you got angry right now, but you instead pause, took a breath, thought about it, and then thought through your response, you wouldn't have the high levels of conflict. That's a, that's a, that's a definite one for certain. So don't get caught up in your emotions. What Reinhard is teaching here is a way for people to shift those emotions and turn it into compassionate. It always reminds me of if you've ever watched the training videos, from Herb Kelleher, at Southwest Airlines. He always used to talk about love. Now love isn't said very much inside business. But if we would all I know, I know this is gonna sound cliche, but if we would all learn to love one another, which is these words that you're using compassion and caring, are very close to the word love, we would find that we would resolve many of our problems. And Reiner it's been a pleasure having you on inside personal growth, spending some time with my listeners about your great book. I'm gonna pull it across again, just give you another opportunity to make sure that you all go out and get this book. We'll put a link to it. And we'll put a link to Reiner's website as well. Thank you so much for being on inside personal growth.
Reiner Lomb
Thank you. The pleasure is all on my side. Greg, that was really fun to talk to you and very enlightening. Thank you.
Greg Voisen
Thank you so much. You take care of.. Namaste to you too.
Reiner Lomb
Thank you.
Sign up to receive email updates
Enter your name and email address below and I'll send you periodic updates about the podcast.