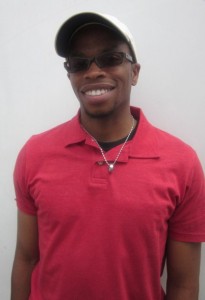 I first meet Terrence White while he was working in a branch of the Chase Bank in Vista, CA where I do my business banking.  What I found exceptional about Terrence was his obvious outgoing and helpful attitude.  He sincerely wanted to help the customers solve their problems, and for many of us we know how hard it is to find this kind of service today.
Once I started speaking with Terrence I found out that he had a passion to helping people at a level of spiritual counseling and he was in the middle of writing his first book.  He asked me if I would interview him  which lead to this podcast  many months later for he had not completed "My Joy In the Morning: Rising From the Ashes".
You will certainly experience the passion that Terrence experienced for helping people spiritually when you listen to our podcast together.  Terrence states " Life presents the greatest benefits as a result of our struggles, pain, tears and fears.  That's what it is all about.  In his book "My Joy In the Morning: Rising From the Ashes"Terrence quotes verses from the Bible then tells true stories that are compelling and  provide the reader with incredible insight and wisdom about how they can transmute their fears, worries, doubts and concerns.
My Joy In the Morning  started as a result of the daily messages that Terrence was sending to his students via email and text to inspire and get them thinking about and being grateful for all the good in their lives. He compiled the daily messages and story he accumulate  into this book for everyone to experience and learn from.
Terrence has thousands of faithful supporters across the country that receive his morning messages.  If you have interest in receiving his daily morning messages please click here and sign up for his emails.  Our you can learn more about Terrence by clicking here to be directed to his Facebook Page.
I hope you enjoy this podcast with a wonderful young man.