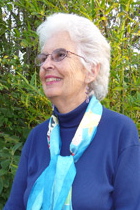 My interview with Elizabeth Wagele the author of, "The Career Within You", focuses on a tool called the Enneagram designed to assist the you in finding the correct career path .
Elizabeth states that more than ever people are considering new careers-but deciding on a new career path can be daunting.  How does one determine what the correct path to fit their personality type?
This practical yet-fun career guide employs the Enneagram Personality Assessment System to help you find a career specifically tailored to your specific type by offering a quiz designed to identify your type, and thus, the best career path for you.
If you are not aware of the Enneagram Personality Assessment Tool, it segments individuals into the following types: perfectionist, helper, achiever, romantic, observer, questioner, adventurer, asserter and peace seeker.
The book provides a easy to take quiz that will assist you in identifying your career type.  Once you have completed this quiz you can reference your specific personality type to learn more about career matches that fit for you.
So if you are on a new career path, and are interested in learning about a fascinating and accurate tool to assist you in determining what might just be the correct career path for you, then read " The Career Within You".  This book is for anyone who is questioning their existing career and looking to find more meaningful work, or the new college graduate who is seeking his or her first job.  I know you will find the information to be quite useful as well as easy to follow and read.   Elizabeth also has a website that has many resources for the reader.
If you are interested in learning more or taking the free career within you quiz then click here .  Enjoy my interview with Elizabeth Wagele, and I hope you understand more about your personality after listening to this very knowledgeable author on the subject of the Enneagram Personality Assessment System.