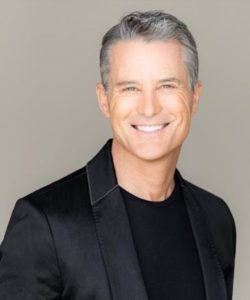 My first podcast interview with Simon was in 2012 when he promoted his book "We First-How Brands & Consumers Use Social Media To Build A Better World," he then guested again in 2018 for the promotion of one of his courses.
In this  interview with global thought leader, bestselling author and  speaker,  Simon Mainwaring, we discuss how to craft our narratives to transform from an individual "Me" into one equipped to lead a larger "We."  Don't miss his empowering words of wisdom about leadership, growth and success in the future.
To learn more about Simon Mainwaring and his new book entitled "Lead with We: The Business Revolution That Will Save Our Future," please click here to visit his website. You may also visit his website to order the book and claim your bonuses.
I hope you enjoy this engaging and informative interview with author Simon Mainwaring.
THE BOOK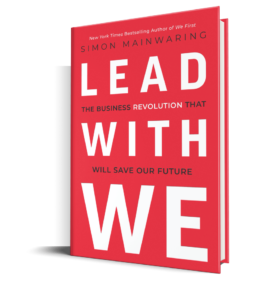 Lead With We is a radical reimagining and reengineering of business based on the idea of collectivized purpose, showing how we live, work, and grow together in new ways that restore and protect the social and living systems on which all of our futures depend.
By leading with "we"—putting the collective above the individual, holding the sum above the parts, and emphasizing the importance of the role that everyone plays—you can not only help solve the escalating challenges of today but also unlock extraordinary growth for your business, and abundance on our planet.
Timely and compelling, this book's message is simple: The future of profit is people's purpose, aligned. Lead With We not only examines why we must all conduct business differently in order to grow in today's market, but provides the how—concrete steps any reader, wherever they find themselves in the business hierarchy, can take toward success.
THE AUTHOR
Simon Mainwaring is founder and CEO of We First, a strategic consultancy accelerating growth and impact for
purpose-driven brands. He's a member of the Steering Committee of Sustainable Brands, the Forbes Business Council, and a Fellow of the Royal Society of Arts.
Simon was a Featured Expert and Jury Member at the Cannes Lions Festival for the Sustainable Development Goals in 2021, host of the 'Brands With Purpose' series with Harvard Business School Association of Boston, and his company, We First, is included in Real Leaders list for the Top 100 Impact Companies in the US for 2021 and 2019, as well as a B Corps 'Best for The World' Honoree. He was a Real Leaders Top 100 Visionary Leader in 2018, a finalist for the Conscious Company Leadership Awards in 2017, received the MAKE CHANGE, 'Conscious Leadership' Award for 2016, and was a finalist for Global Australian of the Year in 2015.
You may also refer to the transcripts below for the full transcription (not edited) of the interview.
Greg Voisen
Welcome back to Inside Personal Growth. This is Greg Voisen and the host ofInside Personal Growth. And joining me from Los Angeles is Simon Mainwaring. And Simon has another new book out, Lead With We the business revolution that will save our future. Simon, Good day to you. Good day to you, Greg, good to see my friend. Oh, it's good to have you on inside personal growth again, and to spend a little bit of time with our listeners, letting them know about your new book. And I'm going to let them know about you. And for all those listening, go to lead with wwe.com That's lead with we.com. There you can order the book. You can also claim your bonuses when you order the book. And you can learn more about Simon and his books. So Simon Mainwaring is the founder and CEO of we first strategic consultancy, accelerating growth and impact for purpose driven brands. He's a featured expert and jury member for the sustainable development goals at the Cannes International Festival for creativity post of brands with purpose series, with the harvest Business School Association of Boston and members of the steering committee of sustainable brands, Forbes, Business Council, and Royal Society of Arts in London. Simon was a real leaders top 50 keynote speaker in the world and was on the cover of the National Speakers magazine. He's been featured in BBC News, The Guardian, Advertising Age Fast Company, and Anke, among others. For Forbes, he writes an influential column called purpose at work. And I would direct you to go to that. His company we first was a real leader, top 100 impact companies in the US, as well as a B Corp. Best for the world's honoree. Simon's first book, we first was a New York Times Wall Street Journal and Amazon bestseller and was named best marketing book of the year by strategy and business. Well, Simon, that's quite an intro. I know you've been a busy man. And again, thanks for taking time out of your busy schedule, to talk about your new book. And I think it's really an important book. And that before we actually started on this podcast, we're talking about the depth of the book, you know, it's really deep. It's got a lot of citations, it's got a lot of stories in it. It's, it's really powerful. And for those of you leaders that are listening, who are serious about actually making an impact in our globe this week, this is very fortuitous. Because right now, we're having the Global Impact leader conference, right. And I know the Queen couldn't attend because of her health and so on. And I know that this is going to be going on is it next week? I think it is next week.
Simon Mainwaring
So you know, these are leaders who are trying to change, climate, trying to change a lot of things in this world that need to be changing. And you did a podcast with me three years ago about your book we first
Greg Voisen
and then that you focus on the importance of purpose. That's kind of been your driver, it's been your driver for brands, it's been your driver for you personally. And I love the story about you missing the call from your mother, when your mother was trying to reach you. And I was actually listening to our own podcast. And that's where I picked up on that story. And for some reason, because of the timezone difference, you guys couldn't connect, and your dad wanted to say goodbye to you. And it was a wake up call for you in your life, I believe that that particular moment for you, because you wouldn't have told that story was a turning point. And I think it is for a lot of people. What do you want to awaken? In leaders that are listening today? With lead with we?
Simon Mainwaring
Yeah, it's a great question. And thanks to everyone who's listening and you know, what happened with me in the passing of my father was that it really was a wake up call to me that I wasn't in alignment with what was true to me. I was doing a job and I was trying different versions of success that really didn't align with what I really cared about what the way skills were best, you know, used for. And it took, sadly, the passing of my dad and missing his call and my mom's message Simon call us when you wake up for me to sort of get out of my own way for the first time and just sit back and go wait a second. What's wrong with this picture? Why am I not happy? What am I meant to be doing? What am I looking for in my life? And I think it was really about finding meaning in my work. It was really about like when you talk to everyone being a leader, you're headed somewhere you've got some direction you've got Some sort of focus, I didn't have it all up till that point. And so I think everyone has the opportunity to find that alignment between who they are and what they do. The other thing I'd say is, you know, it's easy for people to feel hopeless, or helpless, in the face of all these challenges, we face climate and other things. But this is an incredible leadership opportunity. And the great news is that the market is now rewarding those companies, those individuals, those leaders have decided to show up, whether it's the type of company they have, the type of products they make, the contributions they have out in the world, employees will want to work with you, consumers, customers want to buy from you. Investors want to put capital or buy your stock, because they want companies to be part of the solution, rather than part of the problem. So we need to lead in alignment with who we are. And if you do that, in your company, the market forces will reward you. And this is this fantastic moment in time where you can drive business growth by solving for some of these challenges.
Greg Voisen
It's so interesting, as you're talking, you know, I get this intuitive hit. Who's the lead? And who's the lag? In other words, if there's the consumer, and the company, in your estimation, as a brand expert, and this wasn't one of my questions, but it popped in my head because consumers have been slower. And companies almost need to take that responsibility. First, I think to set the example. But I know it's a hard question to answer. But in your estimation, through all the statistics you've studied, who's the leader, and who's the lagger? Yeah,
Simon Mainwaring
it's an end. It's not an either or, what I mean is this, you look at some industries and consumers have been at the forefront calling for change, like clean beauty, you know, they want chemicals out of the products, they don't want bad plastic in the packaging, clean food, they want to make sure that it's farm to table organic certified Fairtrade, even look at the auto industry, which over the last 10 years, completely transformed itself from the combustion engine to now all automakers saying that they're committed to automated vehicles. So the consumers in some industries driver, and on the other side of it, some companies drive it and I'll tell you why the companies are driving, it's because the investor class is now at the table, the you know, you've always got to follow the money. If you're not following the money, you know, you're just being naive. And those people that investing money in companies, new young companies, or companies that want to grow in further, they're saying, wait a second, we need your reputation to be defensible in public, we need to make sure you're treating your employees the right way, fair and living wage diversity and inclusion, we want to make sure that you're set up to succeed in the future, in terms of, you know, what climate and all these other issues are going to do to our lives. And so I think we're getting sort of the changes being driven from all sides. And it's a case by case basis. But here's the nice thing, they all connect to each other. So the more consumers want a better for you better for the planet product, the more the investor will put money into that company, the more that company will grow, the more their company grows, they'll meet the demand, the demand will increase, and so on and so on. So it's got this momentum going now. So I think it's, it's all of the above, and it's actually creating its own momentum.
Greg Voisen
On a world order, I would say that what we're seeing from my perspective is for the first time a crossover in the consumers willing to spend more money for a higher quality product that they know, was sustainably created. And it seems like that's what's going on. And there is no one bad guy here. It's just that we, as you say, we're all interconnected. We need to look at this from a global perspective. And you know, the consequences of the pandemic that rippled through the world. You know, they turned leaders upside down everywhere, they've been thrown new challenges and how to operate their business, not only in a sustainable way, but still profitable. Right. From your vantage point, what are the key areas that need to change within business for them to operate in a humane, environmentally responsible and sustainable manner? And you and I say, you call it corporate contingency planning for Earth survival, that we must start now is what you said in the book. And I like the way you put that. But we still have industries, many that are ignoring that call.
Simon Mainwaring
Oh, absolutely. I think the vast majority of businesses business as usual, making money as much as they can, often to the cost of other people or the planet. But here's the reality. Just a couple of facts. You know, the big Climate report that came out a month or two ago, the big headline that we saw all around the world, and the news was Code Red for humanity. Right? You know, so we're really got to pay attention. At the same time, there was another report from Lancet planetary health that came out recently that said, 56% of young people around the world think humanity is doomed. So we don't need any stakes higher than that. We've got to be we've got to pay attention, we've got to be on notice, we've got to change more quickly. But as you said, the vast majority of companies aren't there yet. So what are we going to do? How are we going to solve for this? Well, if you do want to be responsible, you need to look at defining the foundational purpose of your business, why your company exists. I'll give you an example. For Airbnb, their purpose is to create a world where anyone can belong anywhere. They're not in the accommodation business. They're in the universal belonging business, which then justifies why they rent you apartments around the world, why they give you city guides, or music guides, and so on. So you've got to define your foundational purpose, and then on the strength of that purpose, you've got to go okay, what's my supply chain? Like? Who am I working with? What am I making? are they responsible? Are they exposing me to risk? Secondly, you look at your own internal culture and go, Well, how diverse are we? And is their true inclusion? Are we paying a fair and living wage? Then you look at the products you're taking to market and how you're taking them to market? What's the carbon footprint of that, and so on? And then you also look at your community impact work? Like how are you showing up for the people that make your business possible, the communities you serve? So have that foundational purpose, and then look at your supply chain, your company culture, your products, and what you're innovating, and then the contribution you're making out there to the world? And the only other thing I'd say is, why would you do this, it's because it's really going to affect your p&l, your bottom line, your profit, because it's going to affect your reputation, it's going to affect your ability to attract the people you need for your business. It's going to affect your ability to sell to a growing number of conscious consumers, especially young people who say, hey, we want to support companies that are doing good. And it's going to affect your relevance to the future. Because as things get worse, more and more people are going to be looking at every company and saying, Are you part of the problem? Are you part of the solution. So if you get ahead of this now, you can actually leverage these market forces to actually drive your growth, while playing a more meaningful role in terms of solving some of these issues. And the best thing about that, Greg, to the leaders that are listening to this is that you find greater fulfillment from what you're doing. You're doing good work, you're growing your business, that you feel better about yourself as well, in terms of the way you're showing up.
Greg Voisen
Yeah, I echo back to workshop. I went two years went two years in Los Angeles. And I remember hearing a speaker from Starbucks, talking about he was the sustainability guy, right. And afterwards, I went up and I talked to him and I said, what specifically is Starbucks doing? And the reason this came up this this morning, I was listening to the president of Starbucks talk about the pandemic and China and the fact they opened up another 678 stores, and now they're having some issues, because obviously, they're not going to be serving coffee in China the way they were. And I said to him, what are you really doing? And you know, I'm a big supporter of Starbucks, I own stock in a company, I buy their drinks and their lattes and whatever. But from what he said then, and what I see now, now, I don't know what's going on underneath. I didn't see a lot of I haven't seen a lot of change. So I'm not saying Starbucks isn't changing. I don't know. All I know is I'm a consumer on the outside coming in, I'm still getting the same cup. I'm still seeing the same stuff. And I don't know what they're doing to recycle
Simon Mainwaring
that. Well, it's interesting. There's two issues there. One is are they doing more, and having interviewed Starbucks for my leadership there for my column, they are doing amazing things in terms of investing in the local communities diversity and inclusion, catastrophe pay for employees during COVID. And if you look back over the last 10 or 15 years, they address same sex marriage, free education for veterans employment for refugees, post traumatic stress disorder, so many issues that played a very vocal role in which is great. But the second issue that you're really speaking to here is how well are they communicating that to you, that customer buying their cup of coffee every day? Right? Is that clear? And you might recall back in 2015, they did this campaign around racism to really drive the dialogue around inclusion and Diversity, and it backfired. You know, people got very upset that their barista was talking to them about a very sensitive and complex issue around race. Right. And that was a sort of cautionary tale for all of business out there. Be careful what you say and how you say it. But they leaned into that, since they've learned their lessons and many other companies and are speaking to issues like this, like, just think about a great like p&g, one of the biggest consumer packaged goods companies in the world that make all the washing powder and everything we all use. They've got this big global campaign called the look, which is all about racial bias, and how people white people look at people of color or for multicultural backgrounds, super sensitive issue. But a big company like that that's publicly traded, with a lot of scrutiny said, Listen, we just got to show up. So the larger point here is that you're right, companies need to do a better job of sharing that the good work they're doing in a way that isn't preachy to the right, right. But at the same time, they have to be bold enough to wade into these issues, gun control, women's empowerment, same sex, marriage, all of these things. It's all on the table. Now. I mean, look at voting rights in Georgia, and all the companies that waded in the climate crisis, there is no division between business and culture at large now.
Greg Voisen
Well, what I can say is that from a consumer standpoint, I do see them jumping in the deep water. Yeah. And that's a good sign. And you know, you state that your book has three parts. Yeah. And for all those of you who are serious, who are leaders, you need to get the book. And these parts will elicit a mindset of methodology based on three world prescriptions lead with we can you speak about this to our listeners, and in the context, use the virtuous spiral, which has been motivated, motivated by service and purpose, or you say service oriented purpose is what you said. And I think that spiral in the book is a great diagram. And hopefully, what I can do is have my assistant, this podcast for all those of you who are watching, take the screenshot and put this spiral up, because it's better to see it than it is to try and talk about it.
Simon Mainwaring
Yeah, I'll try and speak to it effectively, as well. But here's the thing, if you're listening to this podcast, are you worried about the future? For yourself, for your kids for your business? Are you worried about the amount of carbon in the air or chemicals in the soil or plastics in the ocean? I think most of us are now it's in the news every day, it's almost impossible to ignore. So I tell him, that's what kept me up at night over the last three or four years, like, I don't think businesses moving far enough, fast enough to solve for these issues, especially because business created half of these issues. And so what are we going to do? And I really took a step back and said, What's the problem here, and the problem is, the whole, like, the natural systems are breaking down the environment, biodiversity, the ocean, plastic, and the social systems are breaking down, you know, social inequity, disparity of wealth, you know, the Black Lives Matter movement, so that the hole is breaking down, which means the parts can't thrive. And this is my big issue brands can't survive in societies that fail. So what are we going to do? We need to restore those systems, those larger systems, the natural world and the social systems that make our lives our businesses our success possible to do that says three things have to happen. One, you, Greg, I, Simon, we have to choose to lead. What does that mean? We cannot wait for a billionaire or one company or one industry or one government to fix the future. We've been trying that for decades, and we haven't got there. And we're out of time. We've got about 10 years before there's a real cascading effect to all of these problems. So we've got to look and say, well, if we're all in this mess together, because we all made individual actions that led to this mess. We're all going to have to do something different to get out of it. The same way that we're all doing something different with COVID. You're at home, I'm working from home, we wear masks and we go out. We're showing up differently because of the conditions we're in. What does that mean? Okay, me individual Simon, a dad, a son, you know, husband, I've got to think about what car I drive. Is it putting carbon in the air or is it not? I've got to think about what products I buy. Is it a good for you good for the planet brand? Okay, great. I'll buy that. How much meat am I going to have in my diet or not? Because that can really help I'm going to serve me am I going to have a blend of plant based and so on? Where am I putting my money? What bank Am I putting it in? Because those banks invest in certain companies that they companies we want to see succeed? Are they actually part of the problem? Where am I putting my pension dollars or my 401k Okay, every aspect of your life just should no longer be unconscious choice. It should be, hey, I'm not hopeless here, I can do something, I can use my dollar, my job, my investments, everything to vote for the future I want. So we've all got to lead. That's a number one shift in mindset instead of just sitting back and hoping it gets better, because it weren't. So you know,
Greg Voisen
Can I can I insert here? You know, we're going to get into talking about capitalism here in a minute, because these are some of where my questions are going. And the new form of capitalism. But you brought up a point to me around consumption ism. You know, I'm thinking about Greg Mackinnon and his book and the minimalism and we've got a whole movement around that. Yeah. And you know, the younger generation isn't as much. Now, I know, statistics will prove otherwise. But you would like to think that they're not about consumption as much consumption. But isn't it? You know, when you look at the US, which is, I think you cited in the book, I don't know what the number is exactly. You can tell me. But we can serve, consume most of the natural resources of the world, as a country, right? What's wrong with that model? Well mean, that if you're going to have some kind of equal ism, and you're going to try and help the world, like Bucky Fuller said, you know, if I wrote a chapter in a book that was written not that long ago, around Bucky, what are what are you going to do?
Simon Mainwaring
Yeah, there's a couple of problems in there. You're right. One is most of us in business don't factor in what they call natural capital, which is what's the cost of the what you're taking from the environment, both now and in terms of the future of the environment, because we all depend on them. And that's not factored in. And there and the reality is, if you actually factored in the natural capital costs of what it takes to make most products, everything we buy, most companies wouldn't be profitable. They wouldn't be they've written it out of it. So that's one thing. The second issue you mentioned, is different regions around the world here in the US, we take more of those natural resources and so many other countries. You know, it's hard, because there's a lot of emerging, there's a lot of countries with an emerging middle class, like India, and Brazil and China that are kind of like, wait a second, we've been providing for you all of these years. You got all the spoils, you got all the goods in the stuff of capitalism, and it's come at the cost of us, right? Yeah,
Greg Voisen
I get it. No, I get it. We're all interconnected that this, this is a big internet. And it's the it's the web of life, what one person does in one part of the world can affect it can ripple out what we do here ripples out. And you know, you mentioned that we must expand on stakeholder capitalism. Yeah. You tell a great story about Marc Benioff, the founder of Salesforce, I thought it was a great story. But I've followed mark for a long time. Would you mind telling the story about what he told the attendees at the Davos 2020 conference? And his mindset about capitalism? And what will help to alter, you know, kind of what's referred to as the devastating course of destruction that will ripple through the world. And you might also mention when you're talking about this, the corporate ecologist also speak about Bucky Fuller's world game, as stated in the 1960s. You know, he used to said, If we he used to say, and I know, you'll remember this, if, because I was a big follower of what he was doing. If we put less money and weaponry and more money in living. Those were the terms he used living a weapon where we could feed the world's global population. And he was talking about numbers greater than what we have today.
Simon Mainwaring
Yeah, absolutely. And just to finish that last question, the first of the three was to lead. The second was to with, which is when you're leading, think about your impact in terms of having the greatest amount of collaboration you can, what is the widest number of people, you can work with a nonprofit, even a competitor, other people in your community, see how the breadth of your width, I like that, yeah, make sure that you're expanding who you're working with to have an impact. And then the third level is the week, which is, let's make sure that when you plan to have an impact in the way that your business shows up, let's make sure we affect as many lives as possible, and the planet in a positive way. So it's a really, really simple tool that you can use in your business every day. When you go to make a decision. You go, how do I lead as in how do I choose to lead with as many people as possible to benefit people on the planet on the greatest scale? And then do a question about stakeholder capitalism. You know, it's and Marc Benioff is not many of us. Yeah, yeah, so stakeholder capitalism is really a big, a big conversation right now where it used to be all just about the shareholder, you know, businesses doing great if we're just giving lots of money back to the shareholder. But now the conversation has moved across and said, Hey, we've actually got to consider all stakeholders, which is includes the environment includes communities includes not just your customers, but everyone that your business affects. So this is a really powerful dialogue. The folks like Larry Fink of Blackrock and the Business Roundtable CEOs and map Nef have been driving, I've got one problem with it. And I'll and that'll lead me to Marc Benioff. Too often when people talk about sharing the rewards of capitalism with a wider number of people beyond just the shareholder, they only talk in terms of rewards, they don't talk about sharing responsibilities. And I don't think we're going to get out of this mess unless we all see that we're responsible, and we've all got to show up differently. But what Marc Benioff said at Salesforce, really is that we don't have an economic or business crisis, we have a leadership crisis, he was saying that we need CEOs, we need founders, we need solopreneurs. To decide they want to do business differently. And in face it in so sorry, Salesforce, this case, they've got a platform called ohana, where 1% of their profits, 1% of their time, 1% of their products, and so on, are donated to the impact work that they want to do. So that's their particular model for how they show up in the world. And all he's saying to all of us is not just that you've got to do good. If you want to drive business growth, if you want to build your reputation, if you want to get the staff, the talent, the employees you need. If you want customers to buy your stuff, you're going to have to show up in the world differently. And so what the book lays out is really a blueprint for how you do that at a leadership level, at a company culture level, at a product level, at a marketing level and at a community impact level, and pulls it all the way through, as you say, going through this spiral. And so it's a blueprint that any business can follow based on all of our 10 years of work with Tom's and timberland. And so many companies, we just put it all into the book my team that we for, so you've got it right there, and you can follow the spiral is just imagine this in your mind's eye, an arrow pointing up, let's go we took me at the bottom where we focused, and we're at the top, where were we focused, and we've got to go from being solely focused on ourselves, because things are breaking down to the collective, how do we make sure the natural world that communities can thrive the week and around that arrow is a spiral. And as you go up the spiral, these are all different levels, where you can have a positive impact us an individual, which I spoke about you as a leader, inside a company as a solopreneur, whatever it might be, you know, you choose to lead, then you've got the culture of the company, how can you work collaboratively to provide solutions that have a positive impact? Then you've got the community level with your customers and your consumers? How do you build movements that are going to have a positive impact? And then you've got the societal level? Which is what do you care about? Is it race is a women's empowerment? Is it mental health? Like? How can you help drive the dialogue that will shape culture and make things better? And why am I suggesting all of this, if we all in our own companies just do a little bit of good, we're not going to get there. Because it's not connected? All of these efforts aren't connected, they're not compounding the same way our problems are compounding. So how do you grow your business, by expanding the way you're thinking about having an impact, so that you can work with more people accelerate your impact scale awareness of what you're doing. And then these market forces, employees, investors, consumers say, hey, we want to invest in you, we want to work with you for you know, for you, we want to buy from you because of the way you're showing up in the world. And so the book just takes you through that whole process. So you can apply it to your business. And one thing I'll say here, Greg is unlucky enough in the work we do with smaller large companies to see what's coming, because you're in the boardroom all the time, and you see the patterns. And here's what I see coming. These issues that we've got to solve for climate and so on. They're all getting bigger in the future, and they're coming back towards us in the present. And right now, we're all hearing this dialogue about business doing more good. And it's kind of going up slowly. But soon, it's going to go vertical, it's going to be a hockey stick, because these issues are so real and present in our lives. So if you want to grow your business, if you want to be on the right side of those market forces and get pushed forward to get extra growth as more consumers investors, and you know, suppliers, they all want to, you know, collaborate with companies like this You've got to start committing to that now to build your bottom line to build your profits, but also to have a positive impact. So that's what I see coming, it's only going to get more important.
Greg Voisen
So let me ask you this, because you know, as a guy who has been dealing with brands and advertising and trying to get the word out, yeah, I feel that. My sense is intuitively, you look at what's going on at Facebook right now and Instagram, you look what's going on with Mark Zuckerberg and you look what's being put out there. And the noise, I call it the noise you call it whatever you want. Um, there, there has been even in the major networks, you know, I don't care if you call it NBC, CBS, FOX, all of them a complete breakdown of responsibility, right, to actually feed because this world actually does. And emotionally, people react based upon what these media networks put out. Yeah. And I think they have been less than responsible. Less than I don't want I don't know how to say it. I just think it's a crime. It's an actual crime. That is being portrayed. And there's so many followers, not people that have risen above that yet, that you have this mass consciousness moving in this direction. I'm not trying to paint a dark picture. What I'm saying is, who's doing something about one of the most powerful conglomerates in every country, which is the media and you are kind of on the outside part of that. Fortunately, there are people like you that are writing books to say, Wake up, hopefully you should be giving this to Mark Zuckerberg.
Simon Mainwaring
Yeah, it's interesting. Mark and I have spoken at the Cannes Festival Advertising Festival together the same year. You know, I spoke before him but Facebook is in trouble and with good reason. And I wrote a book about how brands and consumers
Greg Voisen
Mata Mata meta, meta
Simon Mainwaring
meta is in trouble. A lot of the company Facebook didn't exist within.
Greg Voisen
I heard that announcement yesterday. It was like meta, what does? Yeah, well,
Simon Mainwaring
that's a whole wormhole. But yeah, they're in trouble. Because I don't know the way Instagram is affecting young women, you know, and how they see themselves and their body and all of these different things. And here's the problem with social media, Facebook, Instagram, and others to some degree, but Facebook and Instagram really been challenging. They have so distorted your perception of reality, my perception of reality, everyone's perception of reality, that we can't even agree on what world we all live in, you know, you've got people at extreme ends of conversations, because all the data that they put out is then reinforced by what they get back. And they get more and more set in their ways, and everyone gets polarized. So how are we going to solve for our future when we can't even agree on what reality is? That's a real problem? What do we do about it? You know, well, you know, they're up on the hill now. And they get it. They're getting challenged, everyone's talking about, you know, breaking them off, and so on. But also it's on us. Yeah, a lot of people like good example, Patagonia, which is a very purposeful brand, and very well known yesterday, boycotted Facebook and called for other brands to do it as well. Why? Because there's What does Facebook revenue come from? Where does it come from? Advertise all these advertiser advertising dollars. So again, it comes back to whether we all want to lead, you know, do we actually participate in demanding that there are changes? Or if you want to step away from Facebook? Do we vote for people who want to change these regulations and so on, although the political process has been really frustrating, but I think, you know, they're in real trouble and a name change won't be a silver bullet. I think it's really about the heart and soul of a brand. And you know, you're a business owner, I'm a business owner, everyone listening works in a business or has a business of their own. How are you going to show up in the world? That's what you're going to be judged on? And not because that's the way the world should be. But because we're in crisis, because we've got all of these issues, whether it's Greece on fire, or Australian bushfires, or California bushfires or floods in Europe, plastic choking the oceans, so many people not doing well, and a very small number of people doing very well. We're reaching a breaking point. Yeah, and increasingly, we're going to have to fix it. We're going to have to fix it. And the question is not why we know why. Now, the question is how so I, I spent three years codifying all the ways that we see that it works to drive business growth, to build your business by solving for these issues. And that way, if you do it, if I do it, if we all do it, just imagine what we can achieve more quickly, you know,
Greg Voisen
where your movement is important and you know Let's talk about the dark side of capitalism and how does it need to change to be more inclusive of humanity? You cited a book The Myth of capitalism by Jonathan Tapper and Denise Hearn. And, you know, you say, we're hardly free. You know, you have all these immigrants coming thinking, Okay, we're going to move to the United States of America, because it's free. But it's better than what they have. So when you look at the rest of the world, they wouldn't be migrating here, if they didn't think or believe it was better. Yeah, and that capitalism is kind of masqueraded. You said, as democratic. fair, just, but really? Not, you know. Um, so can you address that? I thought that I'm actually going to go get that myth of capitalism book, by the
Simon Mainwaring
way. Yeah, yeah. I mean, um, you know, these are all very highly respected academics, that all the institutions we know, like Harvard, and so on. And basically, a couple of things. There's the idea of capitalism that we all think we have, but capitalism has changed dramatically over the years from the Adam Smith or the Milton Friedman days to Reagan economics to you know, where we are today, you see it as a function of political parties, and so on. So it's not this static thing. Yet, at the same time, there is a pot of people that sort of wants to just defend the idea of capitalism, it's our way of being in the world as if it's pure and serving everybody equally. And it's, you know, unquestionable, but it's not have a look at the, you know, the top 10 people in the world now earn more wealth than half the population on the globe. Look at the disparity of wealth in the US that's increasing. Look at the lives and the quality of life and the opportunity that people of color and multicultural communities have, as opposed to, you know, white people look at access to voting rights, look at all of these issues that are interrelated. And you know, what Denise was really talking about was, you think it's free? Like it all turns on the free market? Like it, you can, there's no, you know, there's competition, the person who does the best job, you know, wins the market share, they get the rewards. But the reality is, is that most industries are dominated by monopolies, sometimes four, or five, six companies, sometimes just one or two companies, like in the poultry industry. Now, there's one or two companies that are in charge of over 90% of all poultry in the US and around the world. 90%, you know, so how free is it for competition, and so on. And that's just one example of many. So the point is, the idea of capitalism, or what we all hoped it would do in all our lives, is very different from the reality of practice of it, which increasingly says a smaller and smaller number of people. And one thing I'll observe, and I've been, I'm a US citizen, and I've been here for 24 years now in the US, I think the US system or the way capitalism is practice right now is very unforgiving in the sense that if you get on the wrong side of the system, where you have a huge medical bill, and you can't pay it, or you lose your job, where you can't leave me the mortgage payment, you get on the system rewards you when you're always in a good situation to pay your bills and keep growing and adding to the equation. But if something goes wrong, very quickly, you can start to slide down a slippery slope, where you can't get your credit score back, or you can't get insurance, or you can't get a car. Do you know what I mean? It can be really, really problematic. Yeah. So we're talking about the idea of it versus the reality. And I'm a diehard capitalist. And I think capitalism can do a better job of serving more people. Well,
Greg Voisen
along that line, like over the years, we've seen Microsoft, we've seen Google Amazon, you know, they the government says there are monopolies. Now, I don't know the solution to this. But I do understand that because of the structure and the technology and what they have. It's very difficult to break all those apart. Right. And that seems to be where our Congress is headed is from a governmental standpoint, let's intervene and let's see if we can break it apart. Wow. You know, they will defend themselves like crazy. So, you know, you have worked extensively and building company brand throughout your careers. You cite several stories in the book of companies that almost ruined their brands, armour, Kevin Plank. The my pillow guy, Mike Landau, just decided a few because of their support for Trump. Not just Trump, but really Trump economically all about
Simon Mainwaring
politics. It's about issue.
Greg Voisen
Yeah. Right. And so you state that the opposite of neutrality is aiming at personal, purposeful, collaborative and packed on important problems, what are some of the companies that in your estimation, are working towards solving what seemed to be some of the unsolvable environmental and social problems? And you cited Timberlands, nature's needs heroes campaign is one of them. But there's many. There's a lot of companies which have taken your lead, you know, lead with we, and are doing good. You said Patagonia a few minutes goes is banning Facebook. Yay, yay. I didn't know that. You know, I haven't been on Facebook for 10 years. So I don't even know what it's like. But tell me a little bit more about where you see that trend. Because you said you're sitting in these boardrooms. And hopefully in those boardrooms, you're seeing an evolution of campaigns like these, which are not just whitewashed to get. Yeah, purpose washing, just to get people to believe that they're doing good. Because believe me, I've been in those boardrooms too. And some of those campaigns are not on purpose. No, yeah, they're on target to sell more stuff. Exactly. Exactly. And
Simon Mainwaring
you're right, I think you will ought to be naive to think otherwise, there's always going to be a sliding scale between those who just don't give a damn. Those who are just playing at it, purpose washing, paying lip service to it. And those who are doing it for real, is the good news. Not only will it be consumers, the call them out on the media, but it'll be employees and investors just look in the last year or two employees in and of themselves, writing open letters to leadership at Google, Facebook, and Amazon over a lack of response to climate crisis, pay scales and gender bias. So it's not even people outside attacking you for being disingenuous. It's your own people. And literally this week, just a few days ago, 1400 employees at McKinsey, one of the biggest consulting firms in the world, his clients include everyone wrote a letter to leadership, complaining about how they servicing clients that are creating the climate crisis. So inside every company is a very awake and aware group of employees who are saying you better be accountable for what you do. And so what you're seeing now is that every leader if you're if you're listening to this, and you're a founder or solopreneur, or a CEO of a large company, you're facing a choice, not just to address one issue, but multiple issues. I mean, just think about the last year we had black lives matter. climate crisis COVID, everyone in a leadership position, including me was like, Oh, my God, what do we do? We've got all of these issues going on? What do we say about Black Lives Matter? Are we diverse? Can we say something? So what do you got to do? It says, Here's two steps I'm going to give you for all of our work with these large companies. You've got to get table stakes, right? What do I mean by table stakes, these are just the basic things that any company has to get right to be defensible in public, to have a social license to operate, they have the goodwill of their customers, employees, the first issue got to be look at your sustainability of what you make and how you make it. The second thing you got to look at is your diversity and inclusion and make efforts to be truly representative of our culture and society. The third thing is you got to pay a fair and living wage. And you've seen all of these companies go $15 $17. Now $20, the restaurant industry and so on, they're the table stakes, then you've got to look at these issues and say what is other larger issues and go what is relevant and appropriate to us? I'll give you an example. Harry's razors, it's a subscription thing to buy razors, I buy their razors, full disclosure, I subscribe.
Greg Voisen
They're in Costco now. Yeah, right, right. I mean, I'm I passed by the display the other day, and it's like Harry's razors,
Simon Mainwaring
Harry's razors. Well, here's what they did. I mean, a lot of people during COVID, were making PPE face masks and all of that. But they said, Well, we could do that. But what's more true to our brand? And they thought about it and said, Well, who's our audience, our audience, a young men? And what? How can we help them? Well, young men have a high incidence of suicide and people know. And that increased during COVID, because they lost their jobs and their hopes and so on. So they partnered with the Crisis Text Line, to provide mental health support for young men during COVID. And all of their communications were to men who were struggling with self-esteem, anxiety, fear, grief, and that was what they focused on. So that's not only meaningful, but it's authentic to their brand. So my larger point here is, if you've got a company of any size, sustainability, diversity, and fair living wage, and then look at those issues that are most relevant to you, you don't have to address everything because that just looks like you're lugging, you know, plugging a cause in on top of your brand. You've got to do something that's to you. And last comment on this, Greg would be, as things get worse, and as there's more challenges we face the expectation on companies on leaders to respond will increase. So how you respond what you say when you say it is something I really explore in the book, because it doesn't matter, you're going to go home and your wife or your daughters will say, like I do, what difference are you making? Your customers will say, Well, what are you going to do about this? Your employees are like we care about this. How are we showing up? You've got to be ready for this?
Greg Voisen
Well, it's, you know, you said as soon as the line you're in those boardrooms, and you see it, and you see that exponential change, obviously, this stuff is going to start to smack them in the face. It is. And it is now it's question is what are they doing with I just decide a small example I do consulting for a company with 110 or so employees. And it's a maintenance company that does keep your lawns clean, and actually big associations. All electric, Moore's all electric blowers run solar on their roof, all within the last three months. So what you see there is a small business owner who really exponentially saw the problem and decided to make a change. Right, not to say that the state of California in two years is banning, although I did
Simon Mainwaring
say that they bought it back delete flows. They're planning all of it. But that's a really good point, Greg, it shouldn't just be about doing good. It should be about building your business. Yeah,
Greg Voisen
yeah. Well, more customers will buy from him now. Yeah. So you mentioned that we are in continual transformation from the individual, me into one equipped to lead larger through the regenerative future, you call it that we must first craft a narrative? I love this part. Because the narrative that's going on in the minds of people, is it about restoration and renewal? And how would you recommend that a business owner listening right now? recraft their own narrative? Yeah, it's the stories we're telling ourselves most of the time that are making up the world that we live in. So you've got to recraft the narrative?
Simon Mainwaring
Yeah, yeah, it's a great question. And firstly, if you want to go to business, and you want to sell your products, you got to do marketing. And marketing is really just storytelling, because we're all still human being sitting around campfires, telling stories, whether it's through the web, social media, AI, whatever, but we're also telling stories to each other. And that, that helps people decide if they like your brand, they want to buy a product, it's just fundamental to being in business. The larger story or narrative of business needs to change from profit, for profit sake, Gradius, good, you know, and all those things that we know, too, we're in this together, and we need to restore and regenerate the natural world, the social systems that make our businesses possible, if they break down, we will not survive. So this is very self interested. And so I think of it this way, business needs to become a movement to restore these systems, and then your company, my company, every company can then do its own individual effort that's specific to you. But then business of large becomes a movement of movements, every individual company has a different role to play. And this isn't just my opinion, whether it's Marc Benioff, Adele, Davos, as you mentioned, or Larry Fink that manages the largest money management firm in the world, BlackRock, or whether it's 181, CEOs of apple and, and JP Morgan, Chase, and others, all calling for a reengineering of capitalism. Everyone sees the writing on the wall. And so we're all we've gone from that, why to that, how we've gone from now, like, Well, how do we actually drive growth? How do we get the most out of employees? How do we sell more product in a way that's actually going to solve for these issues. And so you've got to define your foundational purpose. As I said, your marketing should express that purpose. And then everything inside your company, from your supply chain, to your culture, to your products, to your marketing to your community impact should be in line with that. And the more you do it, the more you're going to unlock interest and you'll build the bottom line of your business.
Greg Voisen
You know, you cited an article that appeared in The Washington Post written by Stephen Pearlstein, the title of it was 2020 Moral capitalism, why fairness won't make us poor. Again, that goes along with this capitalism we're talking about what thoughts would you like to leave the listeners with about moral capitalism and the benefits that it have on solving many of the economic, social and environmental challenges and why and leading with we will help us in manifesting this new world In order that we need to create to solve these challenges, because, you know, I think most people still have the belief that, you know, under moral capitalism. It is. That is the that was the article, but that capitalism isn't moral.
Simon Mainwaring
His book is just over there it is just over there. Yes. I mean, here's the thing, we did get to a point where capitalism, the way it was being practiced, wasn't more. I mean, we saw the global economic meltdown in 2007 2008. We see all the different ways that people are suffering right now, they got almost exposed even more during COVID. Like, if you are suffering already, you saw them suffer even more, which is just terrible. And then in the headlines, every day, we look at the news, and we go, there's that CEO do something bad. There's that company over there, just, you know, doing things that hurt us. And after a while, you're like, wow, capitalism isn't moral. It's amoral. And what Steve and others have said, and like Rebecca Henderson, from Harvard, in her book, reimagining capitalism, and what I talk about and lead with weed, is that it doesn't have to be that way. The whole idea of capitalism is to create prosperity, wealth, success, but it can also mean that it includes regenerating, restoring sustaining the natural environment and our communities. And for a long time, it did that. But it got Scott got distorted, and it became about, you know, a smaller, smaller number of people making more and more money. And you see that people are upset about that, right now you see it in all the press and so on, we've got a course correct, not because we suddenly woke up and grew a conscience that because you know, your business won't survive. If everything breaks down. It doesn't matter how much money you have, if the society is collapsing, so much so that people are looking to other planets, the billionaires to go and whatever, right. So what do we do? In my opinion, the solution needs to be really simple and practical that everyone can use. And this is based on 10 years of doing this work for all companies, you know, so it's really grounded in real world experience, we all have to choose to lead consciously on our own path in terms of how you show up as a leader, how your company shows up the products you make the impact you have on the environment. If your inaction is a choice, you are complicit in the problem. If you are not part of the solution, we're at that point. Now. I'm sad to say it, but we're at that point, now, you have to lead. You have to look at who you can lead with. And I'll give you an example. There's an apparel company called prana. It's been around 30 years, but it's a small company. They said we're going to fix the way that we ship our product, because it's so much plastic. We don't have any plastic. And I was on a panel with the VP of marketing of them last night.
Greg Voisen
Weren't they actually taken over by the guys that own the luggage company? They used to be here in Carlsbad? Prana?
Simon Mainwaring
Yeah, prana product. So yeah, what they did was they changed the way they folded ship their product. And they got 10 million plastic bags out of their supply chain, just by junior beautiful. So they then said, why don't we open that up to everyone in the industry share all our secrets, they now have in just over a year's time, 105 companies brands signed on including Sephora. Now, just think about that 10 million bags, times 100 companies, what impact are you making exponential, right. So that's an example of the width. So you got to choose to leave, you've got to choose what beat lead with as many other stakeholders as you can, not just those closest into you, your employees, your suppliers, your customers, but as many as you can, even competitors. And then you've got to focus all your attention on serving the greatest we in the sense of the greatest number of people and the planet on which we depend. And it's a very, very simple decision making tool, whether you're in payroll, you're the CEO, whether you're in marketing sales, you can sit there and go, Okay, well, I'm thinking about this decision, how can I lead? How can I lead with the greatest number of people like with? And how can I have the greatest impact in terms of the wheat. And if we all start to do that great. We can this connective tissue between what you do what your listeners do, what I do can start to really compound the impact we have. But here's the important bit, it will build your business. My book walks through a step by step roadmap for what you do at each level of your business to deliver on that promise to lead with we and then the market forces and all the data is there and all the proof points and all the examples so you can see how it works. This is like 10 years of experience that my whole team we will be put it in the book so as many people as possible can have it so that you can get Do good, solve the issues that you care about. But do it in a way that will build your business. And I'm telling you hand on my heart as someone who lives and breathes this every day, the sooner you do this, now, the more you'll be on the right side of where business and society is headed. Because we've got it, we've got to solve for these issues. And the further ahead, you'll be pushed in terms of growth, reputation, your company culture, and you'll really, really benefit. So
Greg Voisen
yeah, it actually takes somebody like you doing that. And I was just want to say, thank you for that. Because this is, you know, this is the Bible for a business purpose and business leaders to follow their purpose, and to define their purpose. And I think the important thing is, is that you've given them a step by step guide to do that, Simon, and I want to acknowledge you for that. Because like you said, 310 years of working at this, but three years in between the first book in this book. So obviously, you guys have been working on this, just this book three years. Yeah. And kudos to you because it is and what I'm going to say to all my listeners, please, please, if you're in leadership, go get this book, enjoy reading it, and then apply the steps that Simon has put into the book.
Simon Mainwaring
Yeah, I think you it's, it is a blueprint, I thought, there's no point writing a book, no one wants to write a book, all it does is take all of your spare time, right? You know, that great. I wrote the book to give you the step by step plan to follow based on our experience, and I would ask one favor, buy the book for yourself, because it really will position you for growth and success in the future. And that the fulfillment that comes with making a difference, which we all want for ourselves, the Think of somebody else in your life, and another company or a leadership position or an entrepreneur, and you think, wow, they would really benefit from this, I think this would interest them, and get it into a second pair of hands. Because we've got a window of time for business to show up differently, and to help you know, address these issues that are going to impact our future. So we got to go fast, or be like me, I'm like really make a difference. If you do that, get into someone else's hands as well. I'm
Greg Voisen
going to say be like me and go buy a case of these books. So I'm going to commit to getting a case. So thank you for being on the show. Thank you for spending your time and imparting your knowledge as a thought leader in this area and wisdom to help people take these steps. And I think, you know, initially, I'd love to see you doing more webinars, seminars, courses, whatever. Because sometimes people won't just follow the words in a book. They have to be encouraged, but I know that's to come. I know that is to come. Yeah. Thanks for being on inside personal growth.
Simon Mainwaring
Thank you, Greg. And thank you for your guidance as to what it means to be a leader really, really appreciate it.
Transcribed by https://otter.ai
Sign up to receive email updates
Enter your name and email address below and I'll send you periodic updates about the podcast.