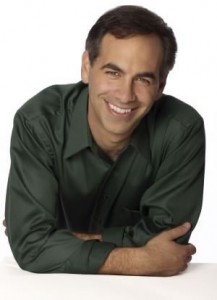 I recently had the pleasure of interviewing Michael Neill the author of a new book entitled, " SUPERCOACH: 10 Secrets to Transform Anyone's Life."
Michael says change the way you think and you will change the way you experience life.  For more than 20 years Michael has been helping clients fulfill their dreams–whether they want to make more money, build their businesses, improve their relationships or find greater contentment in their day-to-day lives.
Each secret, which is illustrated with case studies and anecdotes, is designed to be a catalyst–something that will spark the reader's insights about how he or she thinks, lives, and works.  Supercoach also includes specific actions that people can take to actually experience change and incorporate it into their lives.
Michael and I speak about transformation from the inside out.  He states, "when you learn to live your life from the inside out, stress disappears and worry becomes almost non-existent.  You realize that you were born happy and the worst thing that can ever happen to you is a thought–a thought about whatever you think is the worst thing that could ever happen to you".
Many of Michael's coaching secrets are counter-intuitive.  Take goal setting for instance.  He explains, "Obsessing about goals is like playing a game of fetch with yourself, using your happiness and self-worth as the bone.  Even when you do reach your goals, you only allow yourself a fleeting moment of satisfaction before throwing your happiness even further away into the future than before."
If you want to learn more about the 10 Secrets that can transform your life, I recommend that you visit Michael's website.  He has lots of useful information and videos providing you with these transformative secrets.  To access Michael's website please click here.