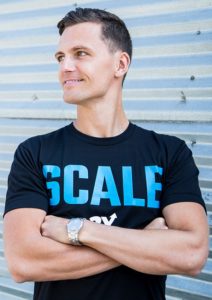 Joining me for this podcast is business growth advisor, investor and author of From 6 To 7 Figures: The Proven Playbook To Get More Traction, Free Up 20 Hours Per Week, And Scale Past $1M In Revenue! – Austin Netzley.
Austin is also the Founder and CEO of 2X. They help 6-and 7-figure entrepreneurs turn their business into a consistent, fast-growing machine that thrives without them. In fact, in less than three years, Austin and 2X have helped private clients generate over $255 Million in revenue by implementing the proven Machine Methodology, 2X's complete system on how to run and grow a business.
With this success, Austin has now outlined the key steps and strategies in his book From 6 To 7 Figures which had its first edition entitled From 6 to 7 Figures: Simplify Your Business, Gain Your Time Back, Scale Faster Than Ever. This book is even tagged as "The playbook entrepreneurs NEED." and is designed to sit on your desk and be your go-to resource when you need solutions to get more traction, time and growth.
If you want to know more about Austin, you may click here to visit his website. You may also access here his company website.
I hope you enjoy my engaging interview with Austin Netzley. Happy listening!
THE BOOK
From 6 to 7 Figures will help you to:
Install a million-dollar mindset and create a vivid vision that gives you crystal clear clarity.
Craft your 7-Figure growth strategy to help you dominate the market using the 2X Model ONE™ Framework.
Fire yourself from the day-to-day in your business so you can become the CEO your business needs.
Turn your business into a machine that doesn't rely on a single person, so everything is consistent, repeatable, and scalable.
Create effective hiring and performance systems to build a world-class team that drives continued growth.
Drive industry leading sales conversions with a full sales system.
Fire up your growth engines and attract more ideal customers (and bottom line) to your business!
THE AUTHOR
Austin is a bestselling author and former collegiate athlete who has been featured on many of the world's largest business websites such as Forbes, Entrepreneur, Inc., Yahoo!, BusinessInsider, ABC, NBC, The Washington Post, and more. As an entrepreneur and advisor, Austin's mission is to help co-entrepreneurs 2X their business in the next 90 days.
You may also refer to the transcripts below for the full transciption (not edited) of the interview.
Greg Voisen
Welcome back to Inside Personal Growth, this is Greg Voisen and the host of Inside Personal Growth. And joining me from Austin, Texas, is Austin Netzley. And Austin, good day to you. How are you?
Austin Netzley
Good day to you. I'm doing amazing, Greg, I'm excited to give some value today. So let's talk about business growth or whatever else you have in mind.
Greg Voisen
All right, well, I see your whiteboard behind you. If we could have your whiteboard, we would. For all my listeners, we're going to be talking about from six to seven figures. He's got the book up there as well, I have it. And the subtitle is the proven playbook to get more traction free up 20 hours a week, and scale past 1 million in revenue. So Austin, great book, by the way. And for any entrepreneur that's making their living, I don't really care how it is. But especially if you're making it out on the internet. This is a great book for you. But it's a good book for anybody. And it is so well done and laid out. So my compliments to you because it's not like sitting down and reading a big, long book, it's an opportunity to actually has some graphs and some charts and some thoughts and ideas. And really well laid out the way you did it. But I'm gonna let the listeners know a little bit about you. There's two ways you can reach Austin, Austin netsuite.com is one we'll have a link to that. And the other is to x.co elite business coaching both sites, you can find the book, you can sign up for the coaching, you can get more information from Austin, you can email them from there. Austin is an author, investor and Business Growth advisor. He's the founder and CEO of 2x, which I just mentioned, a company specializes in helping six and seven figure entrepreneurs implement the systems and strategies needed to get free from the day to day operations, turn their businesses into a machine and smart growth faster and better. In the last three years to access help clients generate over 255 million and counting well in the 2x coaching programs. He's the former colleague at He's a former collegiate athlete and bestselling author who's been featured many of the world's largest business websites such as Forbes, entrepreneur, Yahoo, Business Insider, ABC, NBC and the Washington Post and more. And for more information about Austin, you can just go to 2x dot c o as we said, well, Austin, you know you, you start the book out. But really on your website, I happen to notice this chart where you compared and contrasted yourself when you are 22 years old to when you're 27 years old. And it was only five years that separated the differences in your success. In other words, from 22 to 25. And that's still very young. Can you tell our listeners a little about your story? And in your estimation, what shifted for you during those five years where you were barely making it to somebody who was really making it and had a six figure income at that point,
Austin Netzley
huh? Yep. I started out as in my career as an engineer, and I went to school to become an engineer, I had this big vision to work up the corporate ladder, and I started down that path. But it came out and I started the real world, much like many people do after college with a big load of debt. And I started in the corporate world, and I, I really enjoyed the company that I was working for. And I was growing a lot learning a lot. But then I realized, you know what, that's not like, it's not my long term path. That's not where I want to be in the future. And then my whole world was flipped upside down. And at that point in time, I was, you know, a clear that that was not the direction that I wanted to go, I was deep in debt. And I was, you know, partying a lot, I didn't have my health in place and a lot of other things. And then all of a sudden, what I did, is in a role transition, I moved to a new boss and I wanted to like, like, hit the ground running and start to go into as a sales role at the time. And my boss at the time, he said often slow down, go and read these three books, because he wanted me to like build the relationship with the clients and like not just get in there straight, trying to grow sales. He wanted me to like really take my time. And he said, Go read these three books. And this was the first time outside of school that I had read. And they weren't business books. They were just like, you know, fiction books and different things. But this like, taught me about reading and then from there, I went to the library, got my library card and I started devouring every book I could on money, the mindset, entrepreneurship, which this is the first time I started to learn about entrepreneurship, personal growth and development. And I just went down this this journey and I realized again, what entrepreneurship wasn't Is this tool one vehicle that I could create whatever I could, like wanted to create, I could have unlimited upside, I could make a big impact, I could design around my interest, all these different things. So my whole world shifted from the ages like 22 to 24. And then I sold it was possible. And then I went down that path and started to make it happen. And in that time, that five year period, as you mentioned, I went from being deep in debt to having zero debt to having a bunch of money in the bank to having financial freedom. And we're had passive income coming in, that was bigger than my expenses, and really being in the power position and being clear on like, what my purpose was what my future was. And I feel like so many 20 Somethings, and even some people go into 30s are much longer trying to figure that out. I was like, What's my path? What's my purpose, and I was able to do that by really jumping into personal development in a big way, getting my health, health back. Getting financial freedom, and these are really important things. But combine that with the career focused, now I was ready to go and do some things and have some fun along the way.
Greg Voisen
Well, you said you worked for somebody else. And then you ended up being an entrepreneur and frequently that step from working for somebody to being an entrepreneur. there for some of the listeners out there listening right now, there might be a big trepidation and fear. What was one of the things that you were able to do to overcome what fear or trepidation you might have had with kind of this secure job where it was a paycheck coming in, versus you taking this step into being an entrepreneur, let's face it, you all you focus on is entrepreneurs.
Austin Netzley
Yeah. For me, I started making really good money on the side more money with my side business while still working full time. So that ramp up of starting on the side, and failing a ton was a really great thing to do. It meant more work. Because I had a full time job and a business I was trying to start and build up. But like, that gave me time and a big safety net. But even in that time, I started making a lot of money on the side for my business. But every time I thought about quitting, my heart would just beat out of my chest like I was so afraid of doing that, even though again, I was making a lot of money, I was making more money on the side. And what finally shifted for me is when I joined a community, so as soon as that because I felt like I was just like doing this on my own. I was reading books, and I was like learning online and stuff. But I didn't have a community, I didn't have that support system in place. And a lot of my friends and things like I couldn't relate to them in that case. So I found a community it was a paid community of other people that were in the same journey, many that were going through the same things or had been through the same things that I was, so I felt like I wasn't alone. And as soon as I had that, I had so much confidence, and I decided to finally quit at that point in time. So and then the funny thing is, I was scared. Like I mentioned, for literally almost two years that I was scared of quitting, when I finally told my managers and mentors, hey, I'm going off on my own. Every single one of them was so supportive of me, they were so excited for me. And I was like what I literally stressed about this moment for almost two years. And here they're like, so excited for me, like I would have been way faster. I had I know that by joining that community gave me the confidence to make that next step. Well, I
Greg Voisen
think you mentioned in it is about the community and having support from all these various structures, especially so you don't feel alone. You know, they say being a CEO is it's a lonely at the top. And that's true, you know, I've had five or six different startups in my career. And I know how challenging it can be and how stressful it can be. You know, in in the introduction, you state that there's a formula for business success. And there's a very important order to things to get the most traction possible. Speak with the audience, if you would about business success. And as you say, the simpler and better path to scale, because everybody's looking to scale. And I know it's about systems. And frequently what's happening Austin is your life is moving so fast. And you know, really, when you're a startup, it's you and then maybe it's an assistant, and then maybe it's another person and you know, many of the people listening can relate to that maybe they've got three or four employees, maybe they have 20 employees, but they may not have broken out yet to this, what I would say larger, you know, in excess of 100 employees. And to get those systems in place as you grow. It's really important talk about how somebody small can scale
Austin Netzley
it up. It's so important to nail the order because you've got limited time you got limited resources. And frankly, there's a lot to do so it's a general three step process that we work every single client through this doesn't matter if a client's that $5 million $2 million 500k or 200k per year to get to the next level. This is what you need to be thinking about first and foremost is we've got to make sure that you got to elite strategy and foundation so are you really clear on who you're serving what you're selling them Do you have true product market fit. So this starts with elite strategy and foundation. The second major bucket is operational excellence with do you have the proper systems numbers and team in place so that you can execute efficiently and effectively. And then from there, you can achieve exponential growth. And this is where we're focusing on new levers, the new products and, and really stacking multiple marketing channels on top of each other. But most people are trying to, they just think that like leads, I see more leads, and everything's going to be solved. But they're not really clear on exactly who they're serving and what the pain point is. So they don't have a really good strategy or product market fit, or they're starting to hire people without a business that's actually really profitable, because they don't know their numbers, or they're starting to, again, drive growth and like Ron put their profits into paid advertising. And they don't have an irresistible offer in place so that they're not going to convert at a problem. So we've got to work on things in the right order to make it as easy as possible. And if you start to work on this order, so you've got an elite strategy, you're really clear. And your team's really clear on who you're serving. And what you're going to do to get to the next level, you've simplified things down, you've got more time, so that then you can go and execute. And as you're executing, you're putting systems in place so that you can hand things off and your team can start doing them. So now you've got consistency for see a marketing and sales for client delivery, you can just start to really build your business to the next level so that it's growing with consistency and control. And that's what you want to do. So many people are looking for this overnight growth, but like that's a, that's a short term game that will keep you on the hamster wheel, we've got to escape that once and for all by turning your business into a machine. So elite strategy, operational excellence, and then starting drive exponential growth levers. And if you do it in that order, that's how you're going to truly get that long term growth and success that we see our clients getting.
Greg Voisen
So whether somebody's selling something on the internet, or they're providing a service outside to the world, whether it be housekeeping, whatever it might be, you know, one of the things that's always stressed in kind of consulting is that gross margin. You know, many business owners don't know their margins, they don't you know, the words, they're, they're not pricing their products properly, or services, because the cost to deliver is actually greater than that. So their net margin is so small, and they sit there and they work like crazy for years. And they see that they're paying all their employees, and they're buying their products, and they're paying for all their advertising. In the end, the net margin isn't very much for them. What would you advise somebody sitting there today, and they're looking at the bottom line, and they're going the net, after all the taxes and everything else was worse than if I just went ahead and went to work for another company.
Austin Netzley
It's crazy how high that percentage is that people that can make more money going or working a full time job for somebody else than they do in their own business, and they're so talented to be able to? To not have that be the reality? So the question that we ask our clients, if there's one number in your business, that if you doubled, it would change everything else, like instantly, people think, Oh, I just wish I had doubled the number of leads or doubled the number of sales or like alright, so if we didn't change anything else, and you double the number of leads that you have you doubled the number of clients that you have to manage you double the number of projects. And as a result, you have more team members, if you can do that, or if we keep everything else the same, we've got the same number of leads the same number of sales, the same number of clients that you're working with, but you double your profit margins, and you're at the same result, which one do you want? Where they're like, oh, I would definitely want the second one. And we're like, yes, the best lever to grow to the next level is starting with your profits. And if we can produce more cash flow by being operationally excellent, as I talked about, so before, right strategy and operational excellence, those are actually the keys to growth, everybody wants to go to the growth, but the growth is a result. It's not the thing that you go to straight, first and foremost. So by increasing that profit margin is the smartest way to grow your business. And by doing so, now you've got the cash flow that you can decide. And you can have optionality as an entrepreneur, which few entrepreneurs up so you can decide, hey, do I take a step back from the business and like have it just be producing cash and like I'm focused on family or yourself? Do you continue to grow that to the next level and are more willing to take a lot of the profits and reinvest it back into grow even faster and add more team members or whatever it is needed?
Greg Voisen
So you know what I've done in my consulting as I realized that these people would work really, really hard. And like I said earlier in the previous question, they're literally just like, going, wow, why am I doing this? Because I'm paying for more people. Yes, I'm getting more done. And I think what you just focused on was so important, Austin, to actually get it so that the gross margin for the business is high enough so that the net margin is something that makes sense, right. And if you put on more salespeople, you get more sales. If you put on more salespeople, you also create more complication, if your margins are big enough, right? In other words, the cost of putting those people in there. Now you include a free toolkit of resources in the book to help some people with their strategies and actions. Can you let the listeners know more about these resources? And how they can access this free toolkit? I know you've got two websites, you've gotten your personal website, and then you've got the 2x. Elite website? Yes. What are some of those tools? And how can they access them?
Austin Netzley
Yeah, as I talked about, in the book, from six to seven figures that you mentioned, it's not about ideas, like I don't need to give you a bunch of ideas. It's about implementation. And what we decided to do with a book is actually give people tools and templates to be able to take what's in the book and actually get it into their business. And we've got some of those available for free, and it's at two x.co/toolkit. Again, it's to x.co/toolkit. But inside, you'll see things such as, like a role scorecard that you can use with every single person on your team to get them clear on what their role is what's expected of them. And having that clarity as a team member helps them drive a lot more results if we expect our team to know exactly what they need to be doing. And, and what's how they're going to be measured. And we ended the month we're like, man, it would be easier and faster. If I just did it myself, well, no, we need to give them that clarity. The role scorecard makes it really easy to do. There are other things such as a team assessment in there other things related to time and in our XDS process, which is about freeing up at least 10 to 20 hours a week. And you can do that in one day, like and free up a lot of time. So there's several tools that will help take it from theory to here's actually how to implement it so that you can free up time, inject more cash and money into your business and start to drive much more consistency and predictability.
Greg Voisen
I'm just curious along the way, you know, I'm sitting here listening to you and how much did I mean, you know, you look at you. And you look at Tim Ferriss, and you go, hey, Austin is, you know, like, operating pretty much like Tim Ferriss did you actually, like, consolidate Many of his ideas, and then put it into this? Or were these all just kind of Austin's ideas?
Austin Netzley
It's a great question. Um, so I read The Four Hour Workweek back early in my time as an entrepreneur, and I was like, you know what, this, this really isn't resonating for me. He's talking about virtual assistants and these other things. And it just didn't fully resonate. And then I realized a few years later, as I was traveling around the world, and living a true Four Hour Workweek, I was like, oh, my gosh, 10 planted so many of these ideas in me years ago, and then I live that out. But so long story short, I took different ideas over time, you know, I'm sure, you know, major people like Tim Francis, or Tim Ferriss had a big impact on that and planted those seeds. But the way that we teach business is from an engineering approach. So that's where I take most of it is from an engineering approach of, hey, what do we see from a high level? What are the systems processes? What are the numbers? How do we approach this step by step? How do we solve you know, the root cause or bottleneck and address that? So it's more of an engineering approach than anything, but there's so much that I've taken over time from the greats such as Tim Ferriss,
Greg Voisen
I really like what you do, you know, in this systems, obviously, you speak about KPIs key performance indicators, and you also speak about the lifetime value of clients. And we're gonna get into that because that lifetime value of clients things when you get it, you really realize how much that elevates the value of your business, meaning on the balance sheet, because if you looked at the balance sheet, and you looked at your customer list, if you really retain clients versus trying to go out and get more clients, it's critical. And in your chapter, the million dollar mindset and vision you state that there is a proven formula to move from six to seven figure income. What are the nine elements and why is it it's so why is mindset so important? Because for you, that's the first thing that changed when you moved from 22 years old to 27 years. Hold that five year period of time was really your mindset?
Austin Netzley
Absolutely. Mindset is so important because it encompasses everything it starts, like the first question that we ask entrepreneurs is like, where do you want to go? What success? What's your vision, and if we don't have the proper mindset, then we're not thinking big enough are clear enough on exactly what that is. And as a result, we can't make any business decisions. But every single step along the way, you're going to have to make decisions, you're gonna have to grow personally, you're gonna have to grow as a leader, you're gonna have to communicate all this comes back to the mindset, if we've got major things that are holding our mindset back, maybe major limiting beliefs and things, then it's going to hold back our decision making our team our ability to let go. So it really encompasses everything. So it starts and ends with the mindset because it impacts every area of business. But what we also say is like related to that, it's like your business will never far exceed where your mindset is that and where you're at as a leader. So to grow to the next level, you've got to grow, and you've got to learn, and you've got to be able to take feedback and unlock those things that have maybe held you back in the past. For me, I had such a big problem of letting go and delegating and actually empowering other people, I had, you know, a lot of opportunities from a leadership standpoint and had a lot of opportunities from a money standpoint and thinking about investing into the business. So if you can get through those, it makes every part of business much, much easier. And that just ripples on down to the entire team.
Greg Voisen
Now just list if you would those nine elements that are associated with that movement, because we, we talked about it? Well, you've talked about mindset, but Jim talked about the other one
Austin Netzley
starts with vision. So what's the vision? Like? Where do you want to go from there, we need the proper strategy that helps you achieve that vision and the simplest and most direct path. So we could talk about the million dollar question is like, what's the simplest and most direct path? Whether you're trying to achieve your big vision, or double the number of leads or double your profit margins? Or whatever? The question is, it's what's the simplest and most direct path to make that happen. So we got the vision, we got the strategy from there, we need to execute. So execution is a part of everything. Numbers, meaning cash. And KPIs are a part of everything. We've got systems, team, marketing, sales, and then mindset surrounds that all. So these are the nine different areas, that one by one, we need to get clear on these and improve them. And if you do, they start to grow exponentially, so that you've got a multimillion dollar business that can run and thrive without you.
Greg Voisen
And the good thing about this book, and he will send this book to you for free, by the way, so we'll go sign up the website, it really does have everything we're talking about in it. And it's so easy to understand, this is not a challenge. This is easy. I'm gonna encourage everybody to get the book. Now, we all know, businesses focus on vision, mission, values, purpose, we hear this you see it sometimes written on the wall, but you don't always see it being lived, imbibed with inside the culture, meaning people are like, I'm drunk with it, right? I really believe it. You state that business vision is your big picture guide. It's the North Star. For the company, your vision is the destination. And the thing that will get you fired up and keep pushing through the hard times. In your estimation, how can we help leaders who are out there listening right now define their business vision? And why does it have to be so clear and compelling? I mean, it sounds obvious. But I know there's lots of people out there that wake up every morning, and they're really going to work in their business without a vision. pay the bills. Yeah.
Austin Netzley
Yeah, you have to go back to why did you start in business to begin with? Right? Like, what's that? What's that, like? What's the real purpose and people start in business to, you know, achieve some level of wealth to make an impact to grow and learn to have control of their own destiny. But then we lose that luster over time, because we get lost in the day to day that we're just going to work to pay the bills, like you said, that's not a life fully live. And that's, that's as an entrepreneur, but also think about your team, your team, if you want to get to where you want to go and do so as effectively as easy as possible. You need amazing people around you. And amazing people don't want to go and just, you know, work for a paycheck, they want to go be a part of something. So you need a vision that you're going towards, you need a compelling reason why like, why does it matter? What's the purpose? What's the mission? What's the what's the impact that that's going to make, whether it doesn't matter if you're you know, selling tires, or you know, doing some type of home service, if you're doing coaching like we are, you can still make get be impact for me, a bigger purpose. And then from there, it's about instilling that in your culture in the way that you can do that as have core values. Use the core values we use. We have we use Slack for internal communication online. We've got a team all over the world every single day, we're sharing different core values shout out so hey, somebody really, really represented, you know, focus speed, they took this project and they started in, it's already almost done in the first 10 days. And this is a two month project. So we're shouting out that particular core value. Every single team meeting that we have, we're talking about our core values, we're talking about the purpose and the vision and the mission. We just had a team meeting this morning, like we do every Monday morning. And we talked about the vision and mission and direction. And like, we just keep instilling this so that everybody's clear on where we're going and rowing in the same direction. And everybody that we have on the team is involved in getting there and make that personal success for them. And as a result, one plus one plus one plus one equals 20, you know, as you build up your team, and but you need that otherwise, people aren't working towards any mission, they aren't working with any purpose, and they aren't working in the same direction. And as a result, you know, you'll find a lot of inefficiency in that work. Well, I
Greg Voisen
get the reinforcement is there, you know, and I remember an interview, I've done several with Dr. Jim lar, but his biggest book ever was the power of full engagement. And, you know, what I'm alluding to here for the entrepreneur, the founder, and the key management team, is how do you help to keep these individuals engaged, we know that the levels of engagement in corporations today there's a new book out by Marcus Buckingham Love Plus work, that the power, the engagement levels have gone down so low, we're looking at somewhere in the 30% level. So that means somebody is really working for you, supposedly 40 hours a week is really only working maybe 20 hours a week, because they're not engaged. What would you say about keeping the energy levels? You know, it really, to me, it's the management of our energy, because it gets so displaced to get so fragmented, goes all over the place. And by the time you're done, you're like, tired? And you're, you're just kind of exhausted, what are you? Would you advise an entrepreneur today, to keep fully engaged, keep his team fully engaged and keep their energy high?
Austin Netzley
Amazing question, it comes back to having a vision of where you're going as a company, finding people who have a vision that cross the second do the same exact vision, but it's going to be a vision that crosses over with that, so that they can see that they are accomplishing their goals by helping the company accomplish their so there's that vision crossover, as we talked about. And then the second is that you're regularly communicating and supporting them to remove and help them make their job easier to help get there. So for instance, every single company that we work with, we really instill a culture of systems so that we can get things done more consistently and effectively and easy, right. And if we're doing that, then their job is easier, they have less headaches and stress, we're helping them remove and teaching them how to remove themselves, the bottlenecks that they have, and getting done what they need to get done. So they're getting more done, they're learning a lot, they're removing a lot of the inefficiencies in admin work that they don't like doing, and they're able to spend their time and on the work that they want to do. And that's helping the company and everybody's winning. So we've got a lot of things here that lead to big momentum personally, and as a company and a players want to be a part of something, they want to be a winning. And you're being able to do that by doing those couple of things. So really instilling that, that culture of systems and operational excellence, finding people that are aligned with the vision, like those two things combined, can lead to some really cool momentum. And then, you know, from there, you're winning and like, people don't get tired if they're not working on things that they don't like to and they're winning as a company. And that's a great thing to do. Well, I
Greg Voisen
think you know, when you get somebody who's curious about something, and that's usually where it starts, and then they find a purpose, and then they add goals to that purpose. And I'm actually referring to a talk that I did with Steven Kotler on these are extreme athletes. No, you'll start out, most people are curious, most entrepreneurs are curious. And then they will go from curiosity to really wanting to define this purpose on life, what is it that I really want to do? What is my NorthStar, as you said, and then from that, once you've got that you can define those goals. And then you can define those proximal goals. And then your 2x strategies speak about model one, can you speak with our listeners about the five pillars that will move the listeners from the six figure to the seven figure CEO, because you've got this this model one, and this is something that you teach?
Austin Netzley
Yeah, this is one of the most important frameworks that we have. And what it does is help you get really clear on who you serve, how you serve them in the most simple and effective way that's set up to scale. So the five elements are you selling the right people, the right products at the right price with the right positioning in a way that can scale? Are you selling the right people the right products at the right price with the right positioning in a way that can scale? So a lot of business owners are selling to a broad audience like they're going too wide with who they serve, and as a result, it's really unclear of like, what is the exact to act pain point, what's the exact situation? What's the exact terminology and communication that you can have to attract them. So if we aren't clear on who we're serving all the other questions that businesses are going to be really challenging from their leads into the right products, we want to have a couple of different products, a lot of people have too many different products, they're not irresistible offers, they're not working in tandem together to really maximize customer value. They're not built, you know, in a way that can scale yada, yada. So we've got to work through these one by one to make sure that they're improved and better and simpler and more strategic. And if we do that, you're gonna get way more traction and less time, that's going to lead to, you know, better team output, that's gonna lead to a lot more cash flow and profit margins. And then again, from there, now you've got the other pieces that we've talked about to combine to grow to the next level, but it really starts with that model, one framework.
Greg Voisen
I like what you said about, you know, there's a lot of people that it's train expand product lines and more product lines. And it elicited inside of me yesterday morning, I was watching CBS Sunday Morning, and they had the founder who inherited the company Birkenstock? Well, we all know Birkenstocks, right. But the reality is, is that Birkenstock is really one simple sand. And the demand has grown so big now that they can't even keep more than a 10 day supply. But when you think about it's like, literally, it's just so singularly focused. And they don't have a lot of products, they do have other companies that license with them. We just one way you can grow, you can license, right? You can say, Okay, I'm gonna license this idea to this guy or this day, but I don't want to get involved in all the complexity associated with anything else. And I agree with you that the lifetime value that we were talking about a little bit earlier, but customer is really one of the most critical areas, can you speak with the listeners about how to attract and retain customers so that they can optimize the lifetime value of that customer? And I'm going to add to the end of that. And so those customers become, as Ken Blanchard would say, raving fans,
Austin Netzley
yeah. So we talked about one of the like, what's the one number that you can change and changes everything else in your business. The first one is profit margin. The second one is we love LTV, because with the same number of leads the same number of sales if you just make your hat clients happier, and as a result, keep them longer or offer them more products, or change your model to keep them again more over time, you're going to dramatically change your business and your profit margin. So just by changing LTV, and your profit margins, you're gonna be able to effectively 4x 6x 8x or more your cash flow in your business which is pretty special, like a lot of our clients do. So the way that you can do this is several things a is starts with our model and framework of getting clear on who you serve. Because the more clear on who you serve, and the more targeted that is, the more duplicatable and repeatable you can make your fulfillment. So if you serve a lot of different people or a broad audience, it's hard to make really duplicatable. fulfillment that is, again, getting the same results left and right. But if you've got one specific type of person that you're working with, it's pretty much copy and paste and you're working through the same process, it makes it a lot easier, and a lot happier clients and a lot more consistent results, which again, leads to them staying longer buying more and referring other people your way. And that's we're really healthy business starts are you profitable? And are you making raving fans because raving fans again, will be worth a lot more and they'll send you the best leads that you can have, which is hot referrals.
Greg Voisen
You're so right. You know, I got an email the other day from and I don't know if you remember this name, but many people listening will remember Michael Gerber. You know, Gerber was huge with trying to systemize businesses. And Michael is 86 now and he lives in a town right next to me, and he says let's get together for lunch. He's been on the show a couple of times. And everything that you were speaking about, just so much kind of reminds me about the systemization of what Gerber used to talk about. He used to tell small business owners, this is what you've got to do. You got to create systems, you got to save processes. It's got to be repeatable, it has to be consistent. And that formula hasn't changed. But one of the things that is changed is the way we use and leverage our time. I just did an interview with Richie Norton on anti-time management. It's really your reference to the world and how your perspective is regarding time you state that 80% of our time should be spent on our high impact activities. Speak with the listeners about the XDS system, and how this will help them focus their valuable time because we're all given the same amount of time. It's the degree in which we accomplish and if there's any one true formula and all of these four formulas. It's really how effectively are you using this time?
Austin Netzley
Yeah, right. Yeah. And you know, one way to do that is with our XDS system, as you just mentioned. So X stands for cut, like the first, the best way that you can free up time is to cut things out. Now, the reality is, most of what we're spending our time on as entrepreneurs oftentimes, is not really driving the result, right. It's like very scary to think about what's the impact of most of the things that we're working on, like you can spend, you can look at your week, if you're working 50 hour work week, you can look at your week and probably 35 are not really solving the problems in the proper way are really setting you up for long term success, or they're very short term focus. So what we want to do is first and foremost, cut out or paused and push for later, what is not a part of the 8020, that's going to make the biggest impact. The second is to delegate things on down things should be delegated on down to the lowest possible a person in your company. So oftentimes, we start our business and we're doing everything. And overtime, it's hard to delegate, but like the more that you want to scale, the more that you want to delegate and get things off your plate. And third is S which is systemize. And this will help things be much more consistent, predictable, via a much more efficient so that you can handle a lot more and set your team up for success if you want to delegate that on down. So cut delegate and systemize. If you really review your time and detail and go through every granular task and you look at what can be cut, it's not essential, what can be delegated and what can be systemized, you're gonna be able to find, hey, maybe 60% or 80% of what you're doing in the next three months can be cut delegated or systemized. And a lot of that can be done in the next 24 hours. That as a result, you free up 1020, maybe 30 hours a week or more. We've had a lot of clients free up so many hours by doing this process and working through it and combining it again with the operational excellence and other things that I've been talking about. But if you can free up time, and work on the business and see your business in the new view, we talked about Gerber he talks about working on the business, not in it time is that big thing that shifts your business to be able to really be scalable at that point time we call it the tipping point is when you get freed from the weeds.
Greg Voisen
And I think if you take a step back a little more frequently, and whether you're looking at your day, and the way in which you've organized your daytime blocking whatever it is that you might be using to actually what you think make yourself more effective. Interesting. The breakthroughs that occur is when you shift the lens of your perspective completely about how you're utilizing time. And then time actually, as Richie Norton says, it's about you, you talk about two axing it can be quantum, there can be a quantum change seriously almost like quantum physics, because we always think of everything is very physical. This can actually move to a complete new horizon for everybody. And I encourage them to listen to that podcast now. Austin, you speak about tracking key performance indicators. Every business person who's an entrepreneur has heard about a KPI. What are some of the KPIs that a business owner should be tracking effectively and consistently? Now, I know, this really doesn't change from business to business. I mean, if you're selling something to somebody, whether it's a service or a product, these KPIs really are pretty consistent.
Austin Netzley
Yeah, yeah, absolutely. So you need to be tracking something related to cash, you need to really know what your cash position is definitely related to profit. And most businesses don't know their true profit margins. And they do it just really once a year for taxes. But you also want to be looking at other metrics, such as what we talked about LTV, really important number and that one number, if you can increase the lifetime value of your customer, that will just lead to a lot more profits, cashflow and ability to grow if your customer. So let's say right now, you've got an agency and your average customer is worth $2,000. By implementing systems by being more strategic on how you can serve them by adding, you know, potentially more products. Let's say that you double that to $4,000, that client is going to allow you to spend a lot more money in marketing to acquire more customers in the future. Right. So it really begins with the LTV, but you do want to look at some other marketing metrics, just don't look at the ones that are not really driving the results that you want a lot of people we're looking at followers for clicks or these views on different things where it was we really want to look at who's the what's the main action that we want, maybe it's applications and it's got to be qualified application. So we've really got to break down your business, from marketing, to sales, to fulfillment to finance with what's the top one to three metrics for each one of those track those every single week and you'll start to see what the trends are. And then from there, your goal is to do to be really strategic and add in the operations piece so that it's consistent and predictable, and then you're free from it. So that's consistent, predictable without you, and then you want it to be consistent, predictable and growing without you. And that's where you get into the power position. Now, if we do this, well, we're increasing the number of leads, we're really strong from a sales conversion standpoint, it's not reliant on you, you've got happy customers that you're producing at scale without you, and you're producing profit, like now you're in a power position to be again, top 1% of entrepreneur in business.
Greg Voisen
You've covered a lot during this interview. And most business owners would tell you today, Austin, that one of the things that eats up their time is meetings. And you have to keep the business meetings running smoothly. Can you speak with the listeners about meetings, recommendations, time blocks, and what should be on their calendars? Because I know, you know, you just said this morning, you got up, you had this big meeting, you talked about the vision and mission of your company, you had people joining you on zoom from all over the world, because that's how you run your company. What, what kind of meeting structure would you recommend? Because I know people feel like they're meeting doubt. And then when they walk out, they don't think like anything's gotten done.
Austin Netzley
Yeah, oh, my gosh, we see this day in and day out. Most people either don't have meetings, don't have consistent meetings, or don't have effective meetings. So what we want to do is, first and foremost, keep them really simple. So you need some type of weekly tactical meeting as far as like, what's the plan for the week? What are you going to be working on? What's everybody need? You need some type of daily huddle that communicates Hey, what do you work on yesterday? What are you working on today? What's in your way, and just making sure that the team can pulse really well, because if you don't have this, then everybody's distracting each other. And like asking questions, you want to have everybody bring their questions to this short little meeting, so that during that time, they can be productive and effective and not be distracted with all these questions. So you want everybody to be productive. So a weekly tactical combined with the daily huddle, combined with a review of that, where your problem solving, what did we learn? What do we need to problem solve, and like really lead with some problem solving, those three things from a weekly standpoint are really, really, really going to set your business up to just pulse and get better every single week, you so you got a clear plan, you're executing that plan and removing the hurdles in your way. And then you're reflecting and learning and problem solving. And if you do this over and over again, you're in a really good spot. And then you combine that with some strategic thinking time alone, as the leader of your company, this is a really important time block that you're gonna have every single week to think about, hey, what's the biggest problem or what's one big question and really going in deep, thinking deep into that don't like most entrepreneurs get lost in the day to day, and they're not thinking really strategically. But if you can do that, you're gonna save hours and hours and hours of time. So that's a great habit to get into. And then from there, let's take a step back and make sure on a quarterly basis, you're really going deep, and you're making a high level really clear plan and making sure that it all folds up your company's like, all aligned towards that on a monthly basis, you're going deeper into the financials and really reflecting so you want to get into this daily, weekly, monthly quarterly rhythm where your team is just pulsing and pulsing and pulsing and learning. And as a result. And I should say, with the meetings being super effective use of time that gets everybody super clear. So they can execute outside of those meetings most effectively and focus and not be distracting each other because we might company even like we used to distract each other all day. And I was like, why aren't you guys getting anything done? I was distracting them. But then we started to put in better meeting agendas, so that we brought all the questions and agendas and clarity to the meetings so that we could pulse in the way that I'm talking about.
Greg Voisen
You know, I can see the engineering you that comes out there in those meetings. So that's really well said. And, you know, systems are also very clear as part of it. And Martin and Martin Austin has really put it compacted all of this into this book, everything we've said now, of the two websites of the listeners that are listening right now and they're going well, I'm like ready to talk to Austin, right? I want to go sign up, I want to do something. Where would they go? What do they do? What's your process?
Austin Netzley
Yeah, they need to go to 2x dot code on there, you'll see some great different resources. And if you're interested in talking with our team to break down your business and see what the best growth levers are, then you go to two x.co/ 2x keep it very simple to extract CO slash two weeks and in there, you can get scheduled to call with our teams break down your business. We've also got the book available for free as you mentioned, and that's at Two x.co/book Two x.co/book Put your name and information in there, we'll send you a copy of the book and also the resources that go along with it. So that's a great place to start. And then from there again, you'll see, hey, there's a simpler way to run and grow your business. And then let's get started one step at a time to build that momentum so that you got more time freedom, so that you are producing more profits and cashflow, and then ultimately growing with consistency and control.
Greg Voisen
And what Austin would be the investment that I might make as an entrepreneurs listening today, to go through your programs go through the coaching, so that I can optimize my margins, my profits and feel like I'm doing really well. And I'm now on my way to seven figures, yeah, oh, we
Austin Netzley
have several different options. So it kind of depends. But the general range is, let's call it 3500 bucks a month, plus or minus that it's all one on one hands on in the trenches coaching to help you get free, help you implement things into your business help you get your team taken to the next level. And we've got so many clients that have added, you know, hundreds of 1000s of millions of dollars in revenue, our clients in total have generated over $255 million in revenue, while in our one on one program, let alone the hundreds of things that they generate after they leave our program, because what we want to do is help turn your business into a machine so that you don't need us long term. And that's what the power of the program can really do. So it's all one on one hands on in the trenches coaching that can support them.
Greg Voisen
Well, Austin Netzley, From Six to Seven Figures, definitely go to his website, get the book, then sign up for a console with one of his, I guess coaches learn more about what he's doing, because he's doing great things now to put a ribbon on this and wrap it up. I'm sitting out here now I've listened to you guys for 40 some odd minutes. And you've given lots of advice, Austin, you've given me lots of things to think about, what are three things that I could go implement, like, right away? That would help me, the first
Austin Netzley
Thing that comes to mind is working to simplify. Like, what can you cut out? What's not essential to do right now? Or what's not driving the results? Excuse me that are gonna get you to the next level, where can you simplify, that's the first one. The second one is get the book in and see our free resources on our site so that you can see what's the order of things. Because if you're working out of order, then you're going to feel like things are way harder than they need to be. And our job is to make your life simpler, and much, much easier. So follow the strategic order step by step. And again, that will lead to getting momentum and producing more cash flow that leads to you know, more decisions and things. So there's a very strategic order. And then third is really thinking, how do I get free from the weeds once and for all, because as soon as you get freed from the weeds of the day to day grind, you make better decisions be you have a lot more fun. See, you can ultimately see your business and where to focus, and you've got a much healthier business that can run and grow. And that's what leads you to, you know, having a top 1% type of business. So simplify, follow the strategic order, get free from the weeds, if you do these couple things, you are set up to have some amazing success. And if we can support you in that journey, then that's amazing. We would love to do that. And
Greg Voisen
in all three of those things, I will say help to create clarity. You know, I think, you know, you said one of the most important questions anyone could ask. And it's right at the beginning of the book is what do you really want? And I don't think a lot of people often really know. Yeah, so it really creates a lot of confusion for them.
Austin Netzley
And if we don't know, as the leader of what is our team thing, you know, our teams just running in circles if they don't have that direction. So it's so important,
Greg Voisen
right? And sometimes it takes more deep introspection. So what I will say is, you know, around your purpose and your mission and your values and your vision, if this takes you a week or a month to define, so be it, take it, but make sure that it really resonates with you. And you feel like the energy level that you have. And the energy level that's written on the paper is the same, right? In other words, something you can run with because I think sometimes people will just write them because they gotta get them out. And they have to put them on a piece of paper, but they don't really put the kind of energy and thought into them that really should be required. But Austin, you have been great for my listening audience. Thanks for your time today. Thanks for speaking with us about going from six figure to seven figure and all the systems and procedures that you have again, for my listeners, you go to 2x dot c o to learn more about that. Or you can go to Austin Netzley and we'll have a link to that as well. Thanks.
Austin Netzley
Awesome. Thanks, Greg. Appreciate you very much.
Greg Voisen
Okay.
Sign up to receive email updates
Enter your name and email address below and I'll send you periodic updates about the podcast.