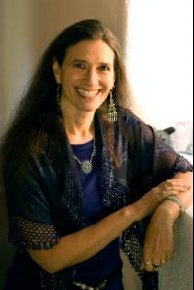 This is my second interview with Sandra Ingerman, and during this podcast we will speak about her book entitled "How to Thrive in Changing Times".  We have all experienced challenges in our life at one point or another, and Sandra provides some simple tools to create true health, wealth, peace and joy.  This is certainly something we call all use a dose of as we bring in this New Year.
I know that everyone has heard this before, and Sandra makes a point to remind us.  One has to do with how our thoughts and words create the world we live in, and the other has to do with what we now know through science about how we can change our thought patterns.
As we navigate through 2011  I don't think that their could be anything more important that re-framing how we speak to ourselves and to others.  Sandra is right on with her wisdom and advice in that this simple behavior shapes our world.  Just set your intentions to be more positive, and to give  yourself more self-love.   In most spiritual practices there is the teaching of as above, so below; as within, so without.  What we see in our outer world is merely a reflection of our inner state of consciousness.
Sandra asks the question in her book "How to Thrive in Changing Times", "Are we holding on to the vision that we would like to see for our descendants and ourselves?  I would encourage you to ask this questions as you enter this New Year.   As we take a deep look inside, and do the spiritual work to transform ourselves and the world around us, we must work from the inside out states Sandra.  Too many of us only focus on the outer world. When we only focus on what is happening in the outer world, we start to feel like we are on a roller coster ride.  This yo-yoing can go on and on unless we come to the realization that our happiness, peace and joy and wealth lie within.
Sandra has a simple diagram in her book which is great.  New thoughts–New Behaviors–New Outcomes–New Thoughts.  So my recommendation as you enter this New Year is to listen to this great podcast with Sandra Ingerman as well as read this simple but wise book "How to Thrive in Changing Times.  If you would like more information about Sandra please click here to be directed to her website.  Enjoy your New Year, and set your intentions to re-frame your self-talk, and how you speak to others.