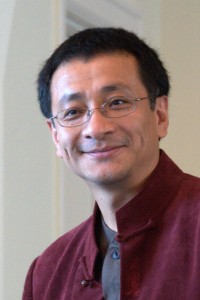 This is my second interview with Dzogchen Ponlop Rinpoche, and it is alway an insightful experience.  Rinpoche has a new book that has been released by Shambhala Publications entitled "Rebel Buddha-On The Road to Freedom"
In our interview together we have an opportunity to explore the concepts of true freedom and liberation.  Rebel Buddha is an exploration of what it means to be free and how we can become free.  As Rinpoche explains "There's something of a rebellious streak in all of us. Usually it's dormant, but sometime it's provoked into expression. If nurtured and guided with wisdom and compassion it can be a positive force that frees us from fear and ignorance.
Rinpoche states in the book, according to Buddha our freedom is never in question. We're born free.  The true nature of the mind is enlightened wisdom and compassion.  Our mind is always brilliantly wake and aware. Nevertheless, we're often plagued by painful thoughts and the emotional unrest that goes with them.  We live in state of confusion and fear from which we see no escape.
In our interview, we discuss the concept of emptiness which is a very important Buddhist concept.  Rinpoche states that the concept is very misunderstood, and that it really means being more open, aware and expansive and to see beyond our current states of belief.  Emptiness get us to see the true reality of our existence , which helps us to find our spiritual path.
He mentions that the ego is actually rebelling against itself because it is not happy in its current state, and that we should attempt to move to egolessness or emptiness to gain our happiness, bliss and freedom from it grasp.   It is in this state that we experience the awakened mind.
We are all seeking freedom from our own suffering and pain.  If you are looking for answers from this suffering and to find  freedom, then I would recommend that you listen to and definitely read "Rebel Buddha".  This is a wonderful book that will stur and awaken your spiritual force, and help guide you to the answers you are probably seek which are right before your belief.
Please visit Rinpoche's website by clicking here for more teachings about Buddhism. Enjoy this wonderful interview with an insightful man with tremendous compassion and wisdom!!!!!