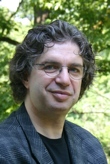 I had my first astrological reading about 20 years ago. At the time I was introduced to astrology by my wife who has been into astrology for over 35 years. Initially I did not know what to expect, but I emerged from the two hour reading totally amazed at what truth and understand can emerge from someone who is trained in doing astrological readings.
My guest on this podcast is one of the best astrologers in the business. Laurence Hillman has been studying astrology since the age of 16. He is a full time professional astrologer, specializing in helping his clients understand their deeper purpose and their life's calling.
I first had an astrological reading from Laurence about a year ago, and I was thoroughly impressed with the personal insights and the epiphany I had during the reading. In our podcast together you are going to see just how powerful astrology can be in helping one to find their path, and give you guidance about your true calling in life. Laurence Hillman will share his wisdom and knowledge from his new book entitled, " Planets in Play-How to Reimagine Your Life Through the Language of Astrology."
In my discussion with Laurence,  you can ascertain for yourself if astrology used for personal growth and development is for you. We will discuss the alignment of the planets and the meaning it can have both in your personal and professional life.
We will also discuss the meaning of archetypes or the characters that we act out during the course of our life.  As Laurence explains, we derive an immense freedom from getting to know our inner characters in this archetypal way. Suddenly we have options about how we can add to–or subtract from–the dominance of any one of them. It is a two step process –  first you'll decide what archetype you wish to explore in your life, hence the need to understand them all. Next, the process will be to explore other ways that this archetype could be lived.
I know you will throughly enjoy the lively dialogue with one of the foremost astrologers in the country. I encourage you to visit his website to learn more about this fascinating and incredibly wise astrologer by clicking here, or obtain a copy of his book by clicking on the link above.