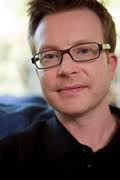 I thoroughly enjoyed my interview with Elisha Goldstein the co-author with Bob Stahl of, "A Mindfulness-Based Stress Reductions Workbook".  This new book is a wonderful guide and playbook for anyone who is seeking to understand the how's of mindfulness.
Elisha Goldstein and Bob Stahl don't just write about why the practice of mindfulness is beneficial for you, they really instruct you on the how's and the benefits of mindfulness.
This book is designed for the person who really wants to integrate the practices of mindfulness in their life.   As the title states if you are having any symptoms of stress such as feeling anxious, irritability, muscle tension, burnout, apathy, restlessness, headaches, fatigue, stomach stress, difficulty in concentration, worry, overwork, substance abuse, smoking, eating problems, sleep disturbances, or feeling overwhelmed, this workbook will definitely help.   I don't think that there is a single soul reading this blog entry that has not had at least one of these symptoms.
The authors define "mindfulness" as, the practice of cultivating nonjudgmental awareness in day-to-day life.  What a perfect definition, the key is creating nonjudgmental awareness.   This book will certainly assist anyone who wants to cultivate more joy, peace and fulfillment in the experiences of every day life.
Today mindfulness has expanded beyond its spiritual roots and even beyond psychology and mental and emotional well-being.  Physicians are prescribing training in mindfulness practices to help people deal with stress, pain and illness. Mindfulness has entered the mainstream in the West and is becoming a very popular practice.
If you would like to learn from the masters, then this book is a great place to start.  I highly recommend this book for both the beginner and the experienced practitioner alike.  You can also learn more about Elisha Goldstein by clicking here to be taken to his website.
Please enjoy this wonderful interview with a true master teacher in the field of mindfulness.