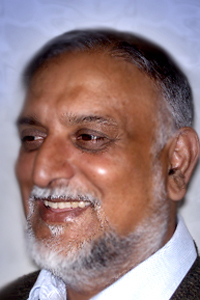 I was introduced to Vishal Mangalwadi by a very good friend.  My friend and I have both been on a local charitable board together for many years. He mentioned Vishal Mangalwadi as an author that I should consider interviewing.  I was fascinated in learning more about why my friend was so interested in Vishal perspective on why the foundations of the Western world were crumbling.
In Vishal Mangalwadi's new book entitled, "Truth or Transformation," he outlines the challenges that current Western society is dealing with associated  with morality, human dignity, rationality, technology and character.
We live in times marked by much confusion and apprehension. In this landmark book, international scholar and author Vishal Mangalwadi offers a radical vision for the gospel's power to heal Western society. With insights drawn from real-life struggles against corruption and from years of study, he delves into the ideological roots of social oppression. Reform, he argues, is never without controversy. Yet reforming a culture's values is a necessary precursor to lasting liberation and hope.
These are not the best of times.  Even secular Americans are looking for the Messiah says Vishal. During his presidential campaign Senator Obama had to remind his supporters, "contrary to the rumors that you may have heard, I was not born in a manger."  President Obama is right–those who look to him as the savior will be deeply disappointed. It is time for the church to recover and unleash the power of the Good News to transform the brokenness of our times.
If you want to read a book with an interesting perspective on how Christianity can help to solve many of our modern day problems, then I highly recommend that you read Vishal Mangalwadi new book "Truth and Transformation".  This will provide you with insights and wisdom from a gentleman who was educated and born in the East (India) and has converted to Christianity from his origins  in Hinduism.
If you want more information on Vishal Mangalwadi please click here for a link to his website.